Sindhi kadhi -Tangy mix vegetable curry in tomato sauce
Tomatoes,chopped – 300 gms
Gram Flour – 1/2 cup
Potatoes,chopped – 2 (medium sized)
Brinjals – 2
Cluster beans – 100 gms
Okra – 100 gms
Cauliflower – 5 florets
Drum stick – 1
Green chillies – 3
Ginger chopped – 1.5 tsp
Curry leaves – few
Tamarind pulp – 2 tblsp
Salt – 1.5 tsp
Red chilli powder – 1 tblsp
Turmeric – 1 tsp
Fenugreek seeds – 1 tsp
Asafoetida – 1/2 tsp
Cumin – 1.5 tsp
Whole red chillies – 4
Cooking oil – 5 tblsp
PROCEDURE:
Chop and boil the tomatoes in 2 cups of water and puree when cooled.*
Chop okra and cluster beans in 3 inch long pieces.
Chop the potatoes, brinjals and cauliflower in big chunky pieces.
Deep fry the okra,cauliflower and brinjal.*
Heat oil in a pan, add fenugreek seeds, cumin, and asafoetida.
When the start crackling, add chopped green chillies, whole red chillies and curry leaves.
Add gram flour and fry on low flame to a nice golden color, keep stirring.
Now add the cluster beans and saute with gram flour for a few seconds.
Add a glass of water and stir well. Ensure that no lumps are formed.
Now mix 4 glasses of warm water and the tomato puree .
Add salt, turmeric, red chilli powder and cook on medium flame for 5 minutes
Add potato pieces,ginger and drumstick pieces and cook for 15 minutes
Add the fried brinjal, cauliflower and tamarind paste and cook on a low flame for 5 minutes.
Add the fried okra, chopped green coriander and cook for 5 minutes.
By now, the oil should start coalescing over the stew, which indicates that the Kadhi is cooked, and ready to serve.
NOTE-
1-* You may add brinjal and cauliflower without frying too and may add any other vegetables of your choice.
2-you can also make this curry without adding tomato puree .
Serving suggestions: Serve tomato kadhi with ,boiled rice,cumin rice and roti.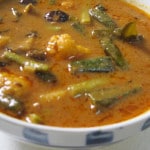 Print Recipe
Sindhi kadhi ,Tomato kadhi