Khatti moong daal -Whole green gram curry cooked with  fresh herbs and spices
Khatti moong  daal or sabut moong is a very healthy lentil to consume as it have many nutritional benefits and is easy to digest if cooked properly. It is loaded with protein and Vitamins ,good source of Iron, Magnesium ,potassium, Phosphorous and also have anti oxidant properties. Moong bean is low in saturated fat and a very good source of fiber. So try to include moong in your diet in some way.
There are many versions or recipes to make with whole moong. It is used to make –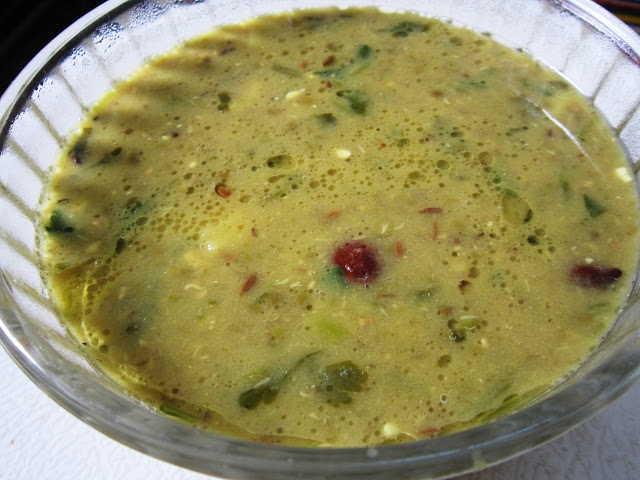 Prep time-5 min
Cooking time-15 min
Difficulty level-easy
Cuisine-North Indian
Type-side,main,soup
serve-4


 INGREDIENTS-
Whole green moong beans /sabut moong  -1 cup
Chopped ginger,chopped – 1.5 tsp
Green chilies,chopped – 2 tsp
Whole red chilies – 3
kokum – 5 *
Turmeric – 1/2 tsp
Lemon juice -1 tbs
Fresh coriander -2 tbs
Salt-1/2 tsp
Sugar -1/3 tsp
Fenugreek seeds /methi dana – 1tsp
Asafoetida/hing – 1/3 tsp
Curry leaves – 10
Chopped green chilies – 2 tsp
Ghee  – 2 tbsp
PROCEDURE:-
Wash and soak moong for  at least 1 hour.
Soak fenugreek seeds in 2 tbsp of water in a separate bowl.
In the pressure cooker heat ghee and then add soaked fenugreek seeds(remove the water from the seeds)
Stir fry for a minute and then add the soaked and drained moong and saute for a minute.
Now add 2 glasses of water and pressure cook for 3 -4 whistle  or till cooked very  well.
Open the pressure cooker and mash or whisk the daal .
Add salt, sugar,turmeric, ginger,chopped green chilies,  kokum, curry leaves, broken whole chilli pieces, 2 tbsp of ghee and approx 2 or 2.5 glasses of water (can adjust the thickness according to your preference)
Mix well and cook on  medium heat for 15 minutes.
Add lemon juice and fresh coriander.
Add a  tsp of ghee while serving.
Serving suggestions:-goes best with steamed rice or roti's
Note
fresh raw mango pieces or dried whole mango pieces can also be added instead of kokum.
Can skip the step 4 and directly add fenugreek and moong in the pressure cooker at step 6
At step 7 we can use the starch drained from the boiled rice instead of water.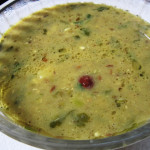 Print Recipe
Sabut Moong Daal ,Mag Methi