Shimla mirch aloo ki sabzi -Potato and capsicum stir fry
Shimla mirch aloo ki sabzi is a very simple and easy recipe to make.It is a dry stur fry made with basic Indian spices and capsicum and potatoes. It is a very good tiffin recipes to pack in lunch boxes. I have used green bell peppers but you can use any colour of bell pepper or use the all three of the coloured peppers ,which will make the stir fry more colourful and appealing to eyes.
I have used boiled potatoes to make this shimla mirch aloo ki sabzi  as it will get cooked quicker by using boiled potatoes but if you don't have boiled potatoes then just add the peeled and cubed potatoes in the tempering,cover and cook till done and then add the remaining ingredients. Adding crushed peanut is my own twist to the simple regular aloo capsicum sabzi and every one at home now loved this curry with peanuts only. If you are allergic to peanuts or dont have peanuts in your pantry then just skip peanuts and follow the rest of the recipe ,it will turn awesome both ways !
INGREDIENTS-
preparation time- 5 min
cooking time-10 min
serve-4
Capsicum-2
Boiled potato-2
Tomato-1
Ginger-1 tsp
cumin seeds-1/2 t.s
Mustard seeds-1/2tsp
Crushed peanuts-2 tbls
Whole coriander-1 tbls
Asafoetida-1/4 tsp
Cruhed red chillies-1 tsp
Mango powder-1/2 t.s
Curry leaves-8
Oil-2 tbls
Salt-1/2 tsp
PROCEDURE:-
Chop boiled potato and capsicum into cubes.
Chop tomato finely , grate the ginger and crush whole coriander seeds.
Heat oil in a pan add mustard seeds and asafoetida,when they start crackling add peanuts ,crushed coriander seeds and curry leaves,stir till done.
Now add turmeric and then add capsicum,ginger and salt.mix and cover with a lid and cook on low heat for 2.3 minutes or till capsicum get cooked but remain crunchy.
Now add potato ,tomato, and all the spices ,mix ,cover and cook for 2 minutes.
Serving suggestions:-serve with rice daal or bread(roti)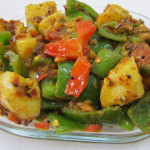 Print Recipe
Shimla Mirch Aloo ki Sabzi , Capsicum and Potato Curry
Shimla mirch aloo ki sabzi -Potato and capsicum stir fry