Gajar Mirch ka kachumbar -Stir fried carrots, peppers and cabbage – a modified version of the Gujarati 'Kachumbar'
INGREDIENTS-
preparation time-10 min
cooking time-5 min
serve- 6
Carrots – 400 gms
Cabbage – 150gms
Mildly piquant green chillies-10*
Lemon juice – 1.5 tblsp
Sugar – 2 tblsp
Salt – 1 tsp
Turmeric – 1/2 tsp
Oil – 2 tblsp
Mustard seeds – 1 tsp
Curry leaves – 10
PROCEDURE:
Scrape the carrots and then slice into thin strips.
Make thin lengthwise slices of the green chillies and grate the cabbage.
Heat oil in pan, add mustard seeds and asafoetida, and when it starts crackling, add curry leaves and green chillies and saute for a few seconds.
Now add turmeric, stir and then add carrot and salt, mix, cover and cook for 1 minute or till half cooked .
Add grated cabbage and mix. Then add sugar and lemon juice.
Stir fry for a few seconds to mix all and to dry up the extra moisture.
Serving suggestions – Works best as a side with dhokla, daal, rice or as a salad.
*-may substitute chilies with capsicum juliennes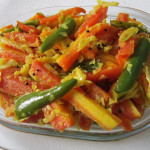 Print Recipe
Gajar Mirch ka Kachumbar ,Stir Fried Carrots