sweet corn and rice croquettes -Spicy vermicelli coated rice and corn croquettes.
 
Corn kernels – 1 cup
Boiled rice – 1 cup *
Fine vermicilli – 1/2 cup **
Thick white sauce-1/2 cup
Black pepper – 1/2 tsp
Oregano-1/2 t.s
Salt – 1/2 tsp
Nutmeg – a pinch
Bread Crumbs – 1 tbls***
Fresh Coriander – 3 tbls
Fresh Red Chilli – 2
Oil – to fry
PROCEDURE:-
Pressure cook corn for 2 whistles or microwave on High setting for 2 minutes, drain the water and crush coarsly in the mixer with out adding any water.
Heat butter in a pan and add the cushed corn to it ,saute for a minute and switch off the stove.
Add boiled rice,white sauce, bread crumbs,chopped red chillies (or green chillies), fresh coriander and all the spices and mix well.
Spread crushed vermicilli in a plate.
Grease your hands and take a small portion from the mixture and shape into cylinder or any shape of your choice.
Now roll the croquettes into the vermicilli .
Heat oil in a pan and deep fry croquettes on medium heat.
Drain on a tissue paper and serve hot.
Note
*You may substitute boiled rice with boiled and grated potatoes.
**You may substitute vermicelli with semolina, to roll the croquettes.if  the mixture is too dry ,then dip in thin cornflour slury before rolling in vermicilli.
***You may substitute bread crumbs with 1 tblsp of semolina.
Serving suggestions: Serve with tomato ketchup and mint chutney.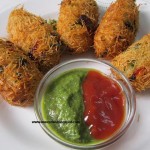 Print Recipe
Sweet Corn and Rice Croquettes / Corn Cutlets