Crisp and delicious rolls stuffed with potato mixture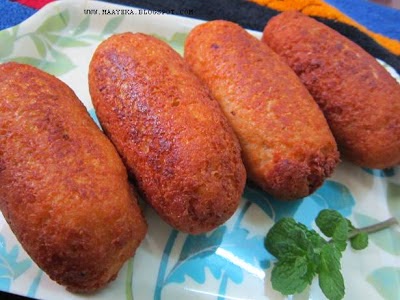 Milk-1.5 cup
Cornflour-2 tbls
Bread slices-8
Boiled potatos-3
Boiled peas-1/2 cup
chopped green chilli-2
Ginger- 1/2 t.s
Crushed cornflakes-1/2 cup (optional)
Chopped mint or coriander-2 tbls
Mango powder-1/2 t.s
Chilli powder- 1 t.s
Salt-1 t.s
Oil-1 t.s
Cumin-1/2 t.s
PROCEDURE;-
Trim the sides of the bread.*
Mix corn flour and pinch of salt in the milk.(you can substitute milk with thin butter milk or plain water.)
Heat 1 tbls oil in a pan ,add cumin when  it become golden then add peas ,green chilli and cover and cook for 1 minute,then add mashed potatoes and all the spices, stir fry for 1 minutes.take out in a bowl.
Add crushed cornflakes and chopped mint ,mix well and make long rolls of about 1.5 inches from the mixture,keep aside.
Dip bread slices in milk ,take out and squeeze well between your palms.
Keep the potato  mixture roll in between the bread and press and fold from all sides to make a tight roll.
Heat oil in pan,deep fry rolls on medium flame,drain and serve
Serving suggestions-serve with tomato ketchup or mint yoghurt dip.
TIPS–
1-By adding cornflour in milk ,the rolls will absorb less oil.
  2-you can shallow fry the rolls in hot oil ,or brush with oil from all sides and bake in hot oven.
  3-you can substitute potato with paneer,and peas with mix vegetables.
   4-soak the leftover bread trims in some milk and keep aside for 5 minutes,then add the left over masala (if any)    salt ,chilli powder, mint and 2 tbls semolina or gram flour.mix well and make flat cutlets and deep fry in hot oil.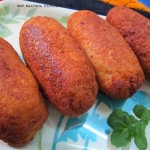 There is no Nutrition Label for this recipe yet.