Chili pineapple rice
A mildly spiced rice preparation with pineapple and bell peppers.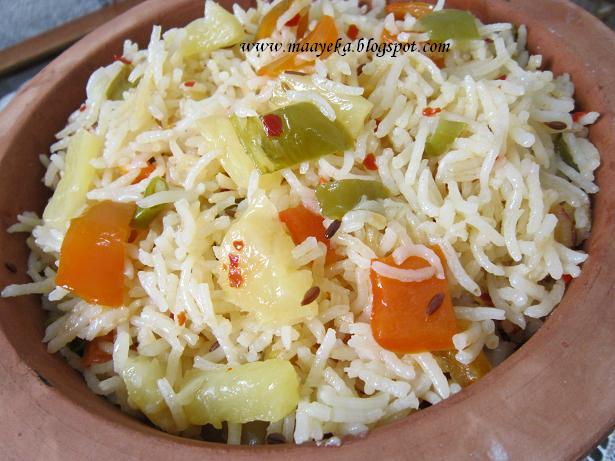 INGREDIENTS-
preparation time-10 min
cooking time-15 min
serve-6
Rice-1 cup
Sliced pineapple rings–5
Red capsicum- 1/2 cup
Green capsicum-1/2 cup
Green chillies- 3
Chilli flakes-1.5 t.s
Salt-1 t.s
Cumin seeds- 1.5 t.s
Oil-2 tbls
Ghee -2 tbls
PROCEDURE-
Wash and soak rice for 20 minutes then drain the water.
Chop pineapple in small pieces(you can either use tinned or fresh) and chop capsicum in cubes.
Heat oil and ghee in a pan(you can use oil only) add cumin and chopped green chillies,stir,then add capsicum ,stir for few seconds.
Add rice ,pineapple ,salt and chilli flakes.stir for few seconds.
Then add 1.5 cup syrup from canned pineapple  and 2 cup water.
Give it a boil and then cover and cook on slow flame for 10 minutes or till cooked completly.
Serve hot.
serving suggestions-serve with any curry ,curd or mint youghurt chutney.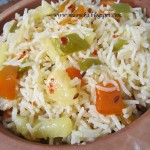 Print Recipe
Chilli Pineapple Rice