A sweet and sour dip made with dates ,tamarind,raisin and spices(date and tamarind chutney)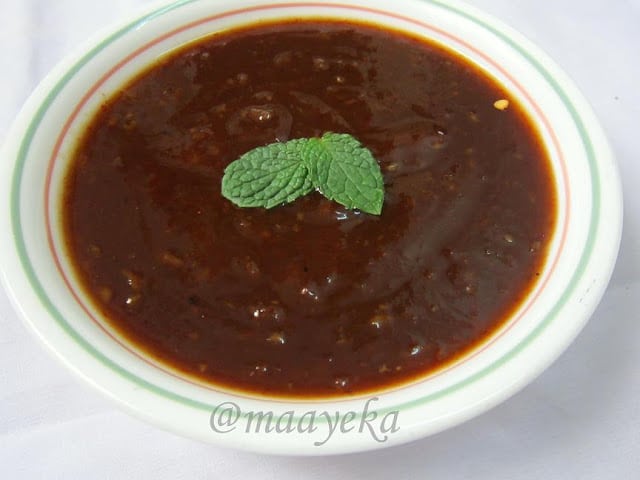 prep time-10 min
cooking time-25 min
Cuisine-Indian
Type-dip/chutney
INGREDIENTS:-
Tamarind/imli  -1 cup
Dates /khajoor-25
Sugar -1.5 cup
Raisins /Kishmish -3 tbsp
Chopped ginger/adrak – 2 tbsp
Red chilli powder -1.5 t.s
Roasted cumin powder -1.5  tsp
Garam masala(optional)-1/2 tsp
Black salt-1 tsp
Salt-1 tsp
PROCEDURE:-
Soak tamarind in 1 cup water for 1/2  hour .
Remove the seeds from  dates and tamarind.
Pressure cook with 2 cups of water for 2 whistles.
When cool down ,blend with a hand blender or mash well with your hand .
Strain the pulp with a soup strainer.
Add raisins and ginger,if you have fussy kids then add raisins and ginger in the strained pulp and blend again to make them into fine pieces.
Now add sugar,salt and chilli powder and 1 glass of water .(if you want to make it thinner, then add some more water)
Cook on slow flame for 20 minutes.then add roasted cumin powder and garam masala( personally I don't like to add garam masala in this,but if you like, you can add)
Give it a boil ,remove from fire.
Keep at room temperature for a week then refrigerate it.
serving suggestions-serve as a dip with any snack ,chat or starter  or as a side dish with stuffed paratha etc.
There is no Nutrition Label for this recipe yet.