A spicy and instant  pickle made from radish / daikon ,oil and Indian spices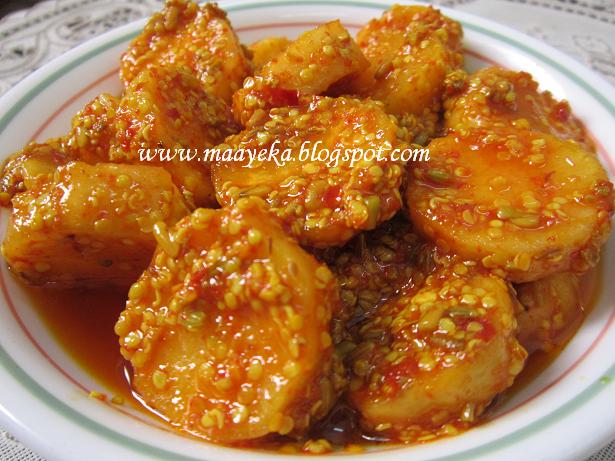 INGREDIENTS-
Radish -300 gms
Rai kuria-3 tbls *
Crushed fennel  seeds-1.5 tbls
Chilli powder-1.5 t.s
Turmeric1/2 t.s
Salt-1.5 t.s
Refined oil-1/2 cup
PROCEDURE-
Peel and chop radish into medium thick roundals.or  cubes(or any shape you want)
Add salt,  turmeric and rai kuria. cover and keep aside for 8 hours or over night at room temperature.
Next day add chilli powder,fennel seeds and oil.
Cover with a muslin cloth and let it mature for at least 4-5 days at room temperature
Keep mixing in between.start using after 4-5 days (or when it become sour).keep refrigerated after 10 days in summer. In winter's it stays longer at room temperature for approx 15 days.
If you cover it with oil till the top then no need to keep it refrigerated.
NOTE –
1- -Rai kuria -split and de husked mustard seeds-if you don't have rai kuria ,just use roughly crushed  mustard seeds.
 2- if you want to make it  in large quantity then keep refrigerated after few days.but I prefer to make in small batches as it taste best when fresh and crisp.
There is no Nutrition Label for this recipe yet.