Kabuli chana chat – A healthy and  delicious chick peas and mix fruit chat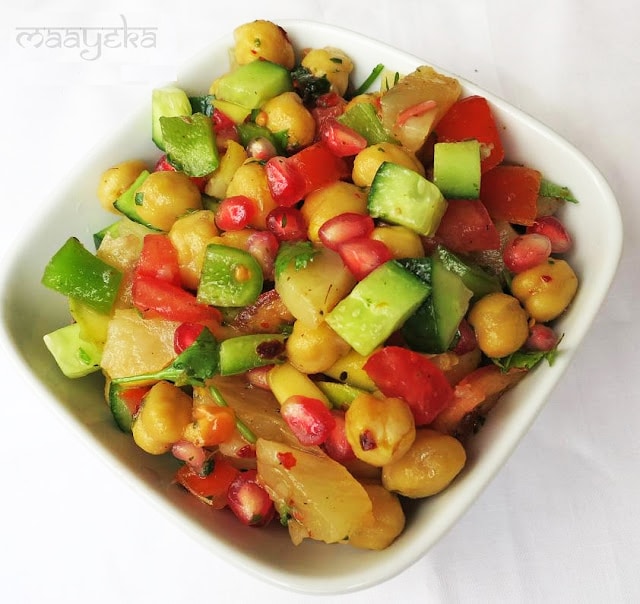 INGREDIENTS:-
preparation time-15 min
serve-4
Boiled chick peas- 1 cup
Chopped pineapple -1/2 cup
Chopped raw mango-3 tbls
Boiled corn niblets-2 tbls
Chopped cucumber-1/2 cup
Tofu or cottage cheese-1/4 cup
Pomegranate seeds-1/3 cup
Diced capsicum-2 tbls
Chopped tomato-1/2 cup
Fried potato cubes-1/4 cup(optional)
Dressing-
Mint leaves-10
Olive oil- 3 t.s
Honey-1.5 t.s
Lemon juice-2.5 t.s
Chilli flakes-1/2 t.s
Grated ginger-1/2 t.s
Pepper powder-1/2 t.s
Black salt-1/2 t.s
Chat masala -1/2 t.s
Salt-1/2 t.s
PROCEDURE-
 Chop and crush mint leaves and take in a bowl then add all the ingredients of dressing and mix well.
Add all the fruits and vegetables in  a big bowl.
Mix in the dressing and chilli for 1/2 hour.then serve.
serving suggestions-serve as a salad, snack, starter or chat.
There is no Nutrition Label for this recipe yet.