Boondi kadi -A  delicious combination of kadi,mogar daal and chawal from Uttar Pradesh (India)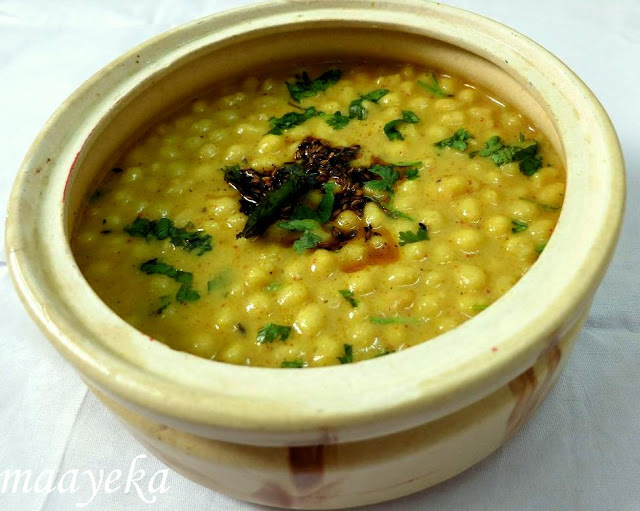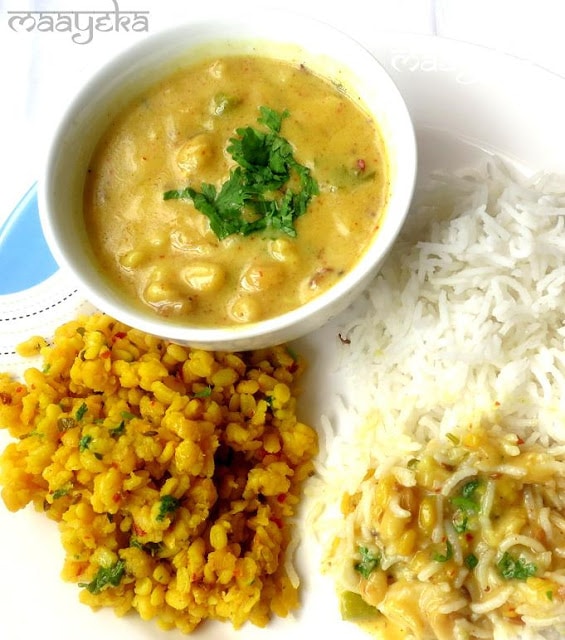 Boondi Kadi, Mogar Daal and Rice is a very popular combination for lunch in Uttar Pradesh and specially in my community.
Mogar Daal is also called 'Dhoi' in certain regions. This combination is considered as an auspicious meal, and is therefore always served during weddings,birthdays etc as well, besides being had as a regular meal.
BOONDI KI KADI
INGREDIENTS –
Sour curd-1 cup
Gram flour-4 tbls
Water-4.5 glass
Boondi-1 cup
Green chillies-3
Ginger-1/2 inch
Black salt-1 t.s
Salt- 1 t.s
Chilli powder-1 t.s
Turmeric -1/2 t.s
Coriander powder-1 t.s
Garam masala powder-1/4 t.s
lemon juice-2 tbls(or according to taste)
Tempering-
Ghee or oil-3 t.s
Asafoetida-1/4 t.s
Cumin seeds- 1 t.s
Whole red chilli-3
Chilli powder-1/2 t.s
Curry leaves-8
Cloves -2
PROCEDURE-
Take a big cooking pan,add curd and gram flour and mix well to make a smooth batter .
Now add 4.5 glass water and all the listed spices, except boondi.
Cook on high flame for approx. 6-7 minutes or till it start boiling, keep stirring.
When it boil for 2 minutes then lower the flame and let it simmer for 20 minutes.keep stiring in between.
Make Tempering – heat oil in a small bowl.when it become warm(I prefer to add tempering when the oil was just warm,then heat it further) add cumin and asafoetida ,when it start crackling add curry leaves,whole red chiilies and cloves, when done add 1/2 t.s chilli powder and pour  on the boiling kadi.
Switch off the flame and add boondi,lemon juice and fresh coriander.
Cover the kadi for 5 minutes so that the boondi will soften and sweel up and absorb the flavours.
 MOGAR DAAL-
Yellow moong daal-1 cup
Cumin seeds-1/2 t.s
Asafoetida-1/4 t.s
Chilli powder-1/4 t.s
Turmeric-1/2 t.s
Salt-1/2 t.s
Ghee- 2 tbls
Water-1 cup
PROCEDURE-
Wash and soak moong daal for 30 minutes.
Take a pan and add ghee, and when it becomes warm add cumin seeds, and when
it starts crackling add asafoetida and chilli powder, immediately add
the soaked daal (drain the water from it).
Stir fry for a minute and add salt and 1 cup of water.
When it starts boiling, cover and simmer till done
Be careful not to over cook it. The grains should  be separate, and not mushy.
Garnish with chopped fresh coriander. Gently mix with a fork.
You can skip step 2 (the tempering) and just add ghee in the boiling daal and proceed with step 3.
serve with a spoon of hot ghee on top
Serving Suggestions – Serve Kadi and Mogar Daal with Boiled Rice and Chapatis or Pooris.
*Boondis are fried drops of chickpea flour and
are popular as a snack and a dessert in savory and sweet forms across
India. The Boondis used here are the savory type, also known as 'Khara'
in some parts of India. They are easily available in all Indian grocery
stores in all countries.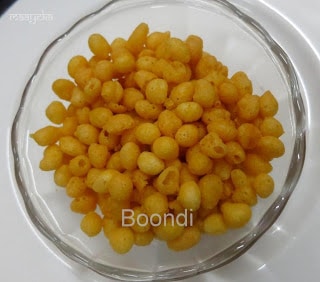 There is no Nutrition Label for this recipe yet.