Curd rice- A cool and refreshing rice and yogurt staple
A very cool and refreshing rice preparation from Southern India. You will need softened or slightly over cooked rice for making this or you may choose to make it with leftover rice too.
Curd Rice stays fresh for 2 – 3 days in the refrigerator and is great as a travel food too. This is my interpretation of curd rice, and it varies in some ways from the authentic curd rice recipe.
My children likes this version much more than the authentic recipe, so you may try it out with your kids too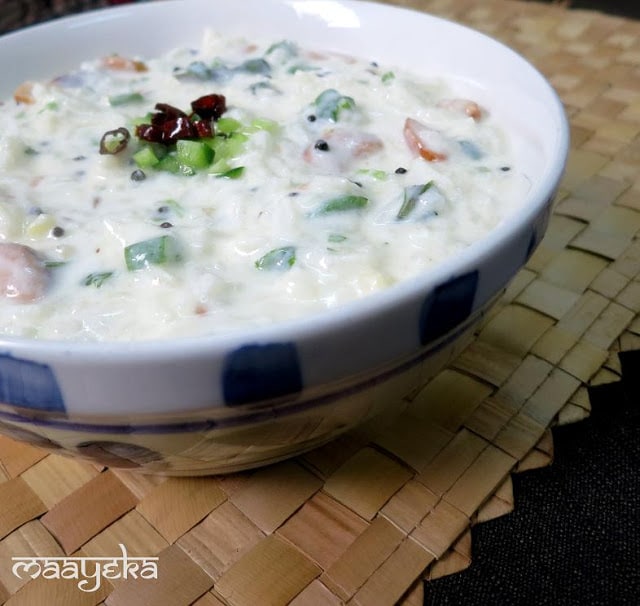 Prep time-5 min
Cooking time-10 min
Cuisine-Indian
Type-main
Serve-4


INGREDIENTS-
Yoghurt/curd-2 cup
Boiled rice -3 cup
Chopped cucumber -4 tbls
Sugar-1 tsp
Salt-to taste
Green chillies -3
Ginger- 1 inch
Fresh coriander-3 tbsp
lemon juice-1/2 tsp
Tempering-
Cooking oil-2 tsp
Cashew nuts pieces-15
Mustard seeds-1/2 tsp
Cumin seeds-1/2 tsp
Urad daal(black lentil)-1 tsp
Asafoetida-a pinch of
Whole red chillies -3
Curry leaves-10
PROCEDURE-
Whisk yogurt well, in a bowl.
Chop green chilies and ginger into fine pieces.
Add boiled rice (cooled completely), chillies, ginger, cucumber(fine pieces or grated), salt ,sugar ,and lemon juice(if curd
is slightly sour then no need to add lemon juice). Mix well.
Prepare
the tempering – Heat oil in a small pan, fry the cashews in it on slow
flame, and when the cashews turn golden brown, take out and keep aside.
Now add urad daal/white lentil, cumin and mustard in the same oil. When they start crackling add curry leaves ,asafoetida and broken whole red chillies.
When the tempering is cooked (avoid charring/blackening the cumin.
Cumin should stay a shade of golden brown in tempering, and should never
be cooked to the point where it turns black), pour it over the rice
mixture. Mix well and add chopped coriander.(you can add few tbls of water in it,if it's too thick)
Chill in a refrigerator for at least an hour and serve.
You can also add 2-3 tblsp of grated carrots into it .
Serving Suggestions – Serve with Salad, Popudams (Rice Wafers) or Rasam (Spiced Tomato Broth). can be used as a travel food.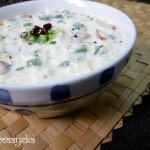 Print Recipe
Curd Rice (Thayir Sadam)