Sweet and sour raw mango chutney
Few days back I made potato fritters for some guests(who came without informing)and want to serve something quick and simple with it,not in the mood of cleaning mint ,coriander and then preparing  green chutney .
I have some slightly ripen raw mangoes lying in my refrigerator so I tried this chutney which come out very  delicious.so I am posting the very quick and simple raw mango chutney.
No cooking is required to make this and will remain fresh in refrigerator(mine was finished with in 10 days ,next time I will make more ,to check how long can it remain fresh 🙂 )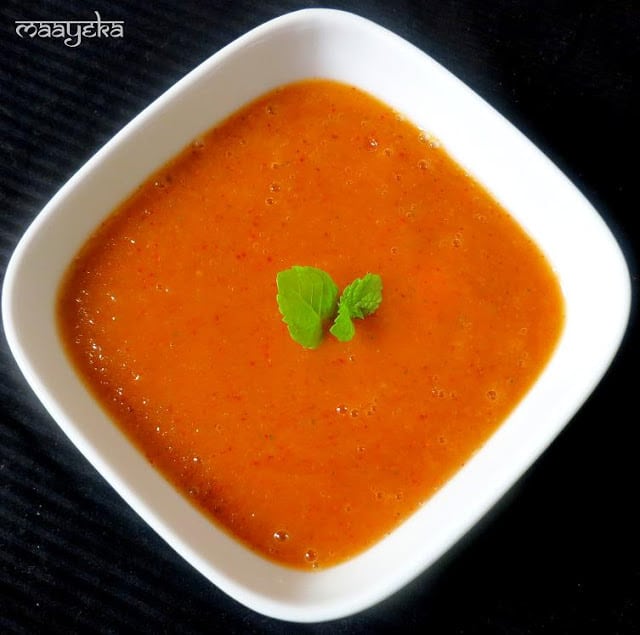 Prep time-5 min
Cuisine-Indian
Type-dip/chutney
serve-4


INGREDIENTS-
Grated raw mango-1 cup
sugar-3/4 cup
salt-1/2 tsp
chilli powder-1 tsp
roasted cumin seeds-1/2 tsp
mint leaves-6
PROCEDURE-
Peel and grate raw mango(can use slightly ripen raw mango to get a nice orange colour)
In the mixer jar, add mango ,sugar, mint, salt,cumin and chili powder and grind to make a smooth paste.
Take out in a bowl  and keep refrigerated.
stay fresh for 2 weeks.(minimum)
Note-
1-sugar can be adjusting according to your taste.
2-you can also use this chutney during fasting.
serving suggestions-serve with any snack,paratha or with any meal.
There is no Nutrition Label for this recipe yet.