Dahi kofta curry -Kofta made from hung curd in cooked in tomato gravy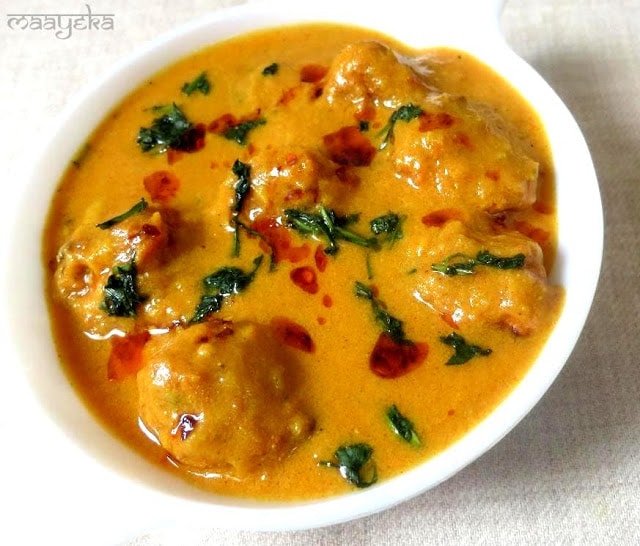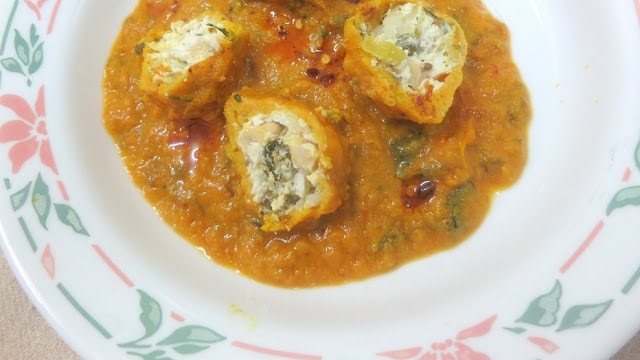 One of the biggest problems with Summer, is the lack of variety in vegetables available.
This recipe takes care of that – with curd being the main ingredient for the Koftas. And since it's made of curd – so this dahi kofta curry is a perfect recipe for summers!
INGREDIENTS- 
For Kofta-
Curd-300 gms
Green chilli-2
Chopped ginger-1 t.s
Raisins-1 t.s
Cashews-6
Fresh coriander-1tbls
Salt-1/2 t.s
For the batter-
gram flour-1 cup
chilli powder-1/2 t.s
salt-1/3 t.s
asafoetida-a pinch of
For Gravy-
Tomato-3
Cashew nuts-8
Hung curd-1 tbls
Ginger chilli paste-1.5 t.s
Kashmiri chilli powder-1 t.s
Garam masala-1/2 t.s
Coriander powder-1 t.s
Kasoori methi-1/3 t.s
Turmeric-1/2 t.s
Cumin seeds-1/2 t.s
Sugar-1/4 t.s
Salt-1/2 t.s
Oil-3 tbls
Fresh coriander-1 tbls 
PROCEDURE-
Tie curd in a muslin cloth and hang for at least 8 hours to drain the water completely.
Take the hung curd (approx 1.5 cup) in a bowl and then add all the spices and nuts.
Grease your palms and make small balls from the mixture.
If having difficulty in making balls then add 2 t.s semolina,mix and wait for 5 minutes then make balls .
Take gram flour in a bowl and add salt,1/2 t.s chilli powder and pinch of turmeric then add just enough water and mix and make a medium thick batter (like you make for pakoras)
Dip the balls in  gram flour batter and deep fry in hot oil till golden in colour.
Heat oil in a pan add cumin seed and ginger chilli paste,saute for a while.
Add tomato puree and all the spices and fry till oil seperates from the mixture.
Add 2.5 cup water and 1 tbls of hung curd and simmer for 5-8 minutes.
Arrange koftas in the seving dish and pour boiling gravy on it.wait for 5 minutes.
Garnish with fresh coriander,chilli oil and serve.
Serving suggestions-serve with roti,poori and rice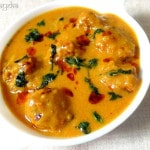 Print Recipe
Dahi Kofta Curry