Kuttu ka dahi vada -Buckwheat flour dumplings in spicy yoghurt (food for fasting)

Kuttu ka atta is  Buckwheat flour or grass seed flour and is referred as religious food .This is consumed mainly in Northern India during Navratri and on any Hindu fasting day.
During fasting cereals are prohibited so Kuttu,Rajgiri ,singhora flour are used.Kuttu is gluten free so potato or colacosia(arbi) is used with the flour to make poori or paratha.
This is extremly high in protein and fibre and good for heart patients. try this kuttu ka dahi wada when you are fasting or on any day.
 INGREDIENTS:-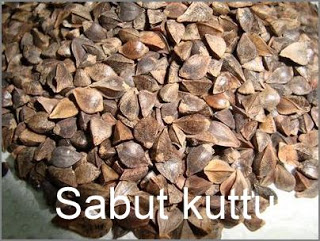 Kuttu atta-1/2 cup
Cumin seeds-1/4 t.s
Chopped ginger-1/2 t.s
Raisins-10
Curd-1 cup
Roasted cumin powder- 1/4 t.s
Pepper powder- 1/4 t.s
Salt-1/2 t.s
PROCEDURE-
Take1/2 cup kuttu atta in a bowl, add 1/2 cup water and whisk very well .
Add cumin seeds, chopped ginger and raisins and mix well.
Heat oil in a pan ,make small size pakoda's (dumplings) on medium heat till golden in colour.
Drain and keep aside for 5 minute.
Take 2 glass water in a bowl and add 1/2 t.s salt in it and  then add pakora's in it .
Let them soak for 1 to 2  hour .
Churn the curd well with 2 tbls of water and salt.
Squeeze the vada's gently and arrange them in a serving plate.
 Dizzle enough salted curd over them ,then sprinkle roasted cumin powder,pepper powder and chopped coriander.
Serve with sweet date and tamarind chutney.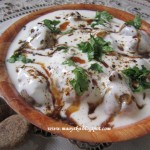 Print Recipe
Kuttu Ka Dahi Wada