Tips to Make Soft Porous Dahi Vadas
To make soft dahi vadas you have to take care of few things-
first is to use good quality Urad daal,very old stock may not give best results.
Soak the daal for minimum 6 hours or overnight.
Grind the soaked daal to make a smooth batter,you have to add just enough water while grinding as very little water won't make it soft and fluffy and adding too much water make it watery and then it become difficult to shape and and it will also absorb a lot of oil.
After grinding the daal, it  should be whisked very well with a spoon, fork or with a wire whisk to make it fluffy ,the whisked daal will change its colour from cream to white and look fluffy when done. You can check if it is done or not by adding a drop of batter in a bowl filled with water, if the drop floats on top then its done and if it sink in then you need to whisk it more.
If you have whisked the daal well then there will be no need to add soda bi carb in it ,I have never used soda and get super soft vadas every time.
At this stage you can add few chopped cashews ,raisins, chopped ginger, chopped green chilies in it ,but this is optional you can add just few things or make them plain if you wish.
After you have whisked the batter well then deep fry the dahi vadas on medium heat ,if you fry on high heat then they will cook from the outside but may remain raw from the inside ,and if you fry them on low heat then the dahi vadas will absorb lots of oil.
After frying dahi vadas ,they should be soaked in water (room temperature) and do add a tsp of 1 salt in the water .If you feel that the vadas are not soft enough then soak them in lukewarm water.
How to assemble the vadas
After about an hour the vadas will become soft then gently squeeze the vadas and arrange on the serving plate
Drizzle with chilled sweet yogurt, Date and tamarind chutney,   Green chutney, sprinkle black salt, red chili powder, roasted cumin powder and some chopped fresh coriander.
  Refrigerate for an hour and then serve chilled dahi vadas.
If you are looking for some recipes to try on diwal then check-
RAS MALAI
CHAMPA KALI
CHIVDA NAMKEEN
PUNJABI SAMOSA
RAJ KACHORI
GULAB JAMUN
BADAM HALWA
Whisk the ground lentil paste well to make it fluffy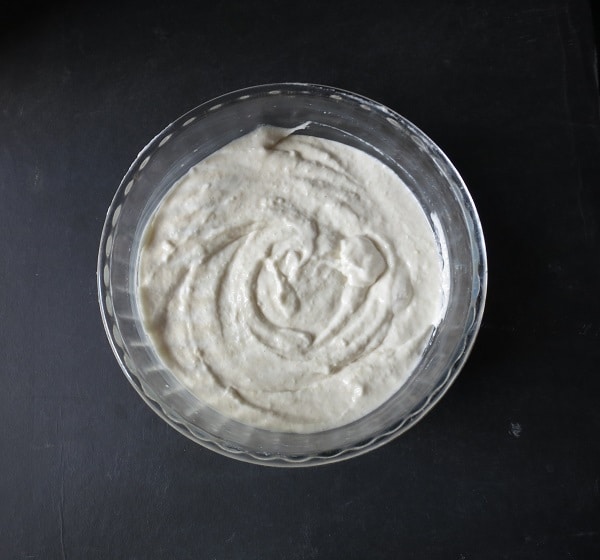 Add chopped ginger,green chilies,crushed pepper corns, cumin,cashew pieces,raisins and fresh coriander and mix well