Aam ki launji -A sweet and sour preserve of  raw mangoes with mild Indian spices
Aam ki launji is a summer special preparation ,which is very popular in North India .its a sweet and tangy pickle or chutney .it is made with sliced or grated raw mangoes .sliced mangoes are tempered in pickle spices and slightly cooked then sugar and chili powder is added and its cooked to make a thick chutney.
if cooked properly it can be easily stored for 6 months in the refrigerator and 3 months at room temperature.It can be served as a dip with snacks or as a side dish with main course meal.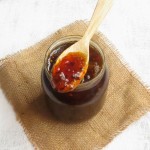 Wash and peel raw mangoes and slice into long pieces.then weigh it ( amount of sugar should be equal or little more to the weight of peeled mango slices,but you can reduce OR increase the amount of sugar if you want )

Heat oil in a pan, add fenugreek ,mustard and fennel seeds.

When seeds become golden then add mango slices, turmeric and salt.mix well.

Cover and cook on low heat for approx 5-7 minutes or till semi cooked.(don't fully cook and don't add water)

Add sugar and chili powder ,mix and cook on low heat (without lid) for approx. 10 minutes.

When gravy thickens then add a pinch of cardamom powder and saffron and mix.

Store in a jar ,when cool down completely.
NOTE-
1-you can also use slightly ripen yellow mangoes  for making this chutney ,then add little less sugar .
2-Can also use jaggery/gur instead of sugar .
3-If you don't want to make it chunky and want a smooth chutney then cook it till it become soft at step 4 ,then mash it with the laddle and then follow the recipe,But I like to make it slightly chunky.
4-If cooked properly it stays fresh at room temperature for about 4 months.
5- The amount of sugar vary according to the sourness of mangoes ,you may need 500 gms to 650 sugar to make this.
Serving suggestions  -serve with any snack,starter or as a side dish with any meal.
There is no Nutrition Label for this recipe yet.