Bhindi sambhariya -Okra stuffed with coconut,peanuts and mixed spices, specialty from the state of Gujarat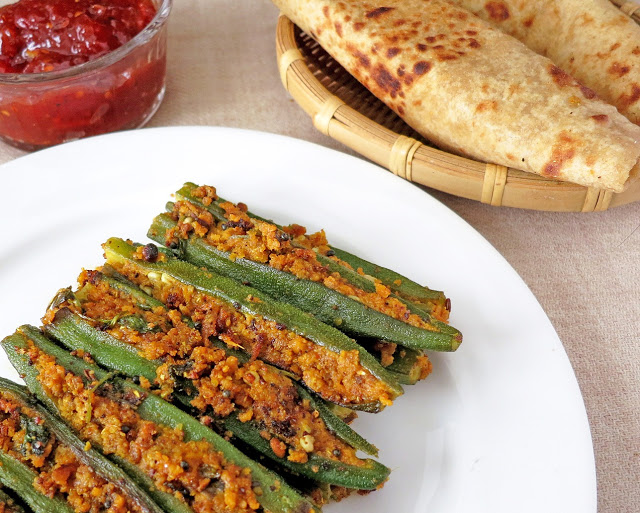 INGREDIENTS-
prep time-20 minutes
cooking time- 30 minutes
serve-4-5
Tender Bhindi/okra-300 gms
Cooking oil-4 tbsp
Mustard seeds-1/2 tsp
Cumin seeds-1tsp
Curry leaves-8
Asafoetida-1/4 tsp
Cooking oil-3 tbsp
Stuffing-
Fresh coconut,grated-1/4 cup
Roasted peanuts.crushed coarsely-2 tbsp
Roasted sesame,coarse powder-1 tbsp
Mango powder-1 tbsp
Chili powder-2 tsp
Coriander powder-1.5 tsp
Turmeric -1/2 tsp
Sugar- 1 tsp
Garam masala- 1tsp
Cooking oil- 2 tbsp
Salt -to taste
PROCEDURE-
Wash bhindi and spread on a cloth napkin in a single layer to remove all the moisture.
Trim the edges and make a slit in the centre lengthwise,take care not to break the okra in two pieces.
In a big bowl add all the ingredients for stuffing and mix well.
Stuff okras with this stuffing and keep aside.
Heat oil in a broad and heavy bottom pan and add cumin seeds,mustard seeds,asafoetida and curry leaves.
When seeds start crackling add the stuffed okras and the left over stuffing masala .
Cook on slow flame with out covering the pan.this way you will retain the bright green colour of the okra.
If the okras are not tender,are big or you are in hurry then can cover the pan with a lid.
Keep stirring in between so it will get a nice colour from all the sides.
When done remove from the pan and serve hot.
Serving suggestions-serve with rice and chapatis.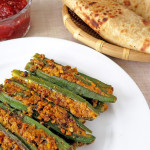 Print Recipe
Bhindi Sambhariya /Stuffed Okra