Chili cheese toast- a very colourful and delicious snack made with bread ,peppers and cheese
Chili cheese toast is a very simple and quick breakfast recipe,can also be used as a snack or as a lunch box recipe for kids.Bread topped with grated cheese,bell peppers and hot chilies is grilled or baked in an oven till the cheese melts and a yummy snack is ready to serve in minutes.
To make chili cheese toast you need not to use fresh bread can use 1-2 days old bread ,and for the topping you can add red ,green yellow bell peppers and can aslo add corn kernals if you wish,try to add more colours to make it attractive and tempting  for the kids.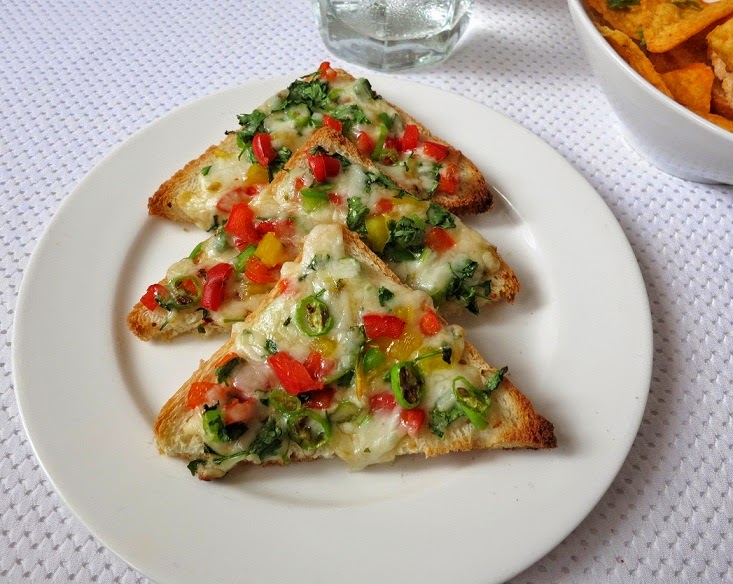 Prep time-10 minutes
Cooking time-5 minutes
Type-snacks
serve-2
INGREDIENTS-
Bread slices-2
Yellow bell peppers-2 tbsp
Red bell peppers-3 tbsp
Green chilies,chopped- 1.5 tsp
Fresh coriander-2 tsp
Mozzarella cheese,grated-6 tbsp
Salt -to taste
PROCEDURE-
Grate cheese,dice bell peppers and chop green chilies into fine pieces .
Slice bread in two pieces to make triangles
In a bowl add cheese,bell peppers,green chilies,fresh coriander and little salt.
Apply approx 2 tbsp mixture on the bread pieces.(you can slightly toast the bread slices before applying the chesse mixture if you wish)
Arrange the slices on a baking tray and grill on 180 degree for 2-3 minutes or till the cheese melts
Serve hot.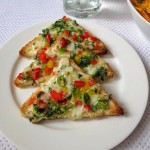 Print Recipe
Chili Cheese Toast Recipe