Mysore rasam -Lentil and tomato soup-a specialty of Southern India
Rasam is a type of thin and spicy lentil soup which is an integral part of any South Indian meal but is different from the popular sambhar. There are many version of rasam, some are made with lentil and some are made without using any lentil ,taste almost like a spicy tomato or vegetable broth.
Freshly ground spice powder(Rasam powder) is added to give a fresh aroma and flavour but now readymade rasam powders of good brands are easily available in the market so you can use them too.I have also posted the recipe of Pineapple rasam 
Rasam can be served as a appetizer, soup or to serve as an accompaniment with idli,dosa,uttapam or vada.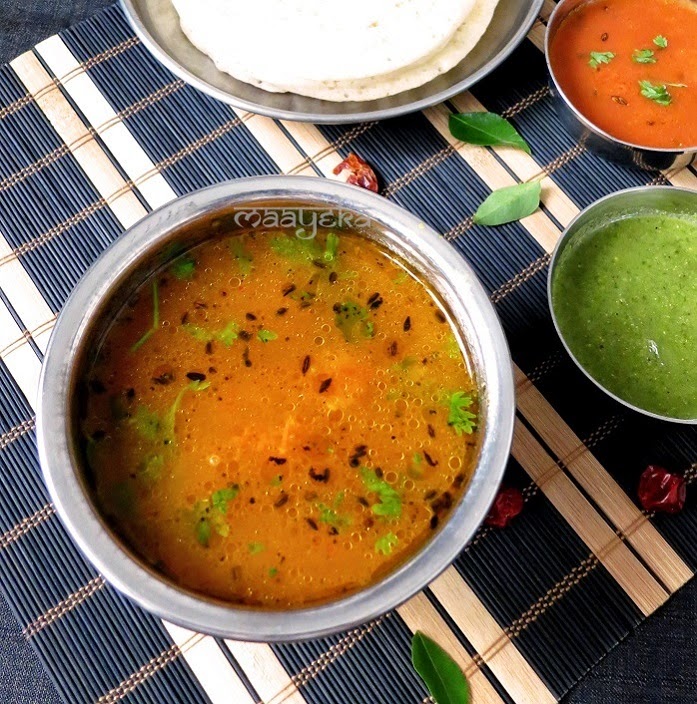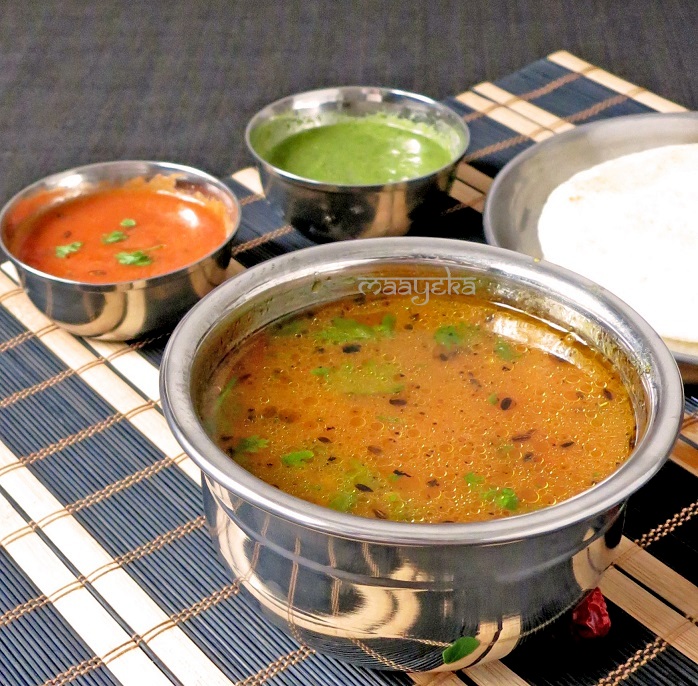 Prep time-10 min
Cooking time -10 min
Cuisine- South India
serve-4
INGREDIENTS-
Tuvar daal-4 -5 tbsp
Tomato-2
Green chili-1
Turmeric-1/2 tsp
Rasam powder-1.5 tsp
Jaggary -1.5 tsp
Thick tamarind pulp- 2.5 tsp
Fresh coriander- 2 tbsp
Salt- to taste
Tempering-
Cooking oil- 1 tsp
Mustard seeds- 1/2 tsp
Cumin seeds- 1/2 tsp
Asafoetida- 1/2tsp
Whole red chilies- 2
Curry leaves- 8
Ghee- 1tsp
For Rasam powder-*
Whole Coriander seeds-1.5 tsp
Cumin seeds-1 tsp
Peppercorn- 1/2 tsp
Fenugreek seeds- a pinch of
Mustard seeds- a pinch of
Asafoetida – pinch of
Whole red chilies-2
Cooking oil- 1/2 tsp
PROCEDURE-
Rasam powder-Heat 3/4 tsp oil in a pan and add all the ingredient listed in rasam powder ,Roast on low heat till it start giving a nice aroma,then grind to make a fine powder OR use ready made rasam powder.
Wash and soak tuver daal for 15 minutes
Add Roughly chopped tomato and 1/2 cup of water in the cooker and pressure cook for a whistle.
Take out the boiled tomatoes and gently mash them with a laddle or whisk.
Now add tuvar daal,chopped green chili,I tsp oil and approx 1.5 cups of water in the cooker.
Pressure cook for 3-4 whistles or till daal become soft and mushy.
Open the cooker and mash the boiled daal.
In a pan add mashed tuvar daal,mashed tomato, salt,turmeric,tamarind extract,1/4 tsp asafoetida and approx 3 cups of water and cook on medium heat for 2 -3 minutes
Now add 2 tsps of rasam powder,jaggary and few curry leaves and simmer for 2 minutes.
Heat oil in a small pan and add mustard seeds and cumin seeds.
When seeds start crackling add asafoetida ,curry leaves and whole red chilies.
Add the tempering in the boiling rasam.
Switch off the flame and add chopped fresh coriander .
Serve hot with a spoon of ghee on top.(optional)
Serving suggestions-serve with rice,vada or idlis
Tips-
*Readymade Rasam powder is very easily available in all the Indian stores.
You can also add whole tomatoes along with the daal and cook together at step 5.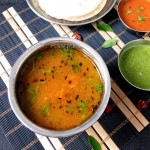 Print Recipe
Mysore Rasam