Bengal gram,raw mango and coconut salad-a Maharastrian specialityKairi chi daal is a speciality from the state of Maharashtra.It can be served as a snack,side dish or as salad.It is very good to have this salad during summer season,as it  is fresh,low in calories and don't need much cooking.I saw this recipe in a cookery show and loved the simple and fresh flavours of this recipe It is specially made during Marathi new year -Gudi Padwa celebration and on the day of Ganesh visarjan.
Soaked  and coarsly ground chana daal  is mixed with grated raw mango and fresh coconut and a simple tempering is added to give flavour and a simple,quick and healthy side dish is ready  to serve.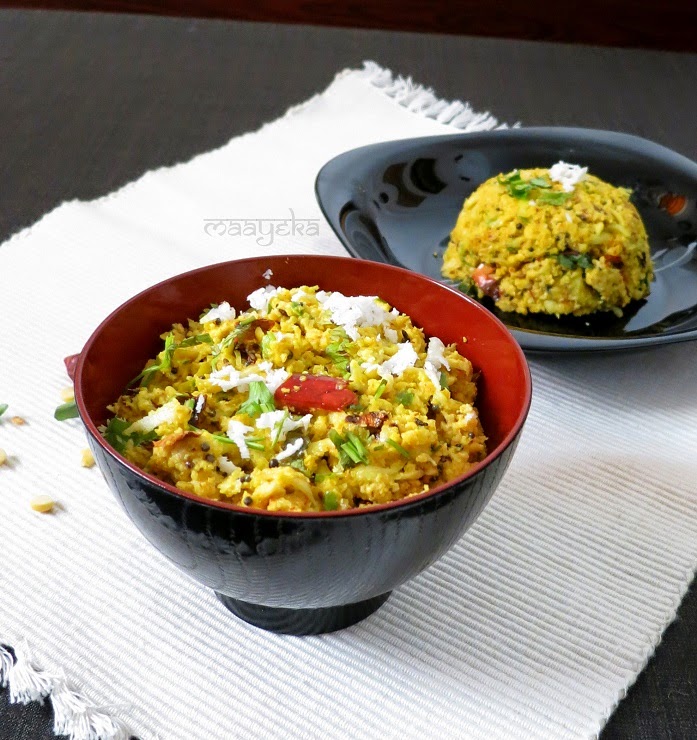 Prep time- 15 min
Cooking time- 2 min
Cuisine- Indian,Marathi
Type- side,Salad
serve-4
INGREDIENTS-
Chana daal/bengal gram- 1 cup
Raw mango,grated -1 cup *
Green chili,chopped-3
Ginger,grated- 1.5 tsp
Curry leaves,chopped -5
Dried whole red chilies- 4
Fresh coconut, grated- 1/3 cup
Fresh coriander,chopped- 3 tbsp
Sugar- 2.5 tbsp
Salt- to taste
Tempering-
Cooking oil- 2.5 tbsp
Mustard seeds /Rai – 2 tsp
Cumin seeds /Jeera- 1 tsp
Asafoetida /hing- 1/3 tsp
Chili powder-1 tsp
Turmeric- 3/4 tsp
Curry leaves-5
PROCEDURE-
Wash and soak 1 cup chana daal in enough water for 4 hours.
Drain water and coarsly crush the daal along with green chilies(take care that we need thick and coarse daal ,so don't make a fine paste)
In a bowl add  the crushed daal, grated coconut, grated raw mango, ginger,chopped coriander, salt and sugar in a bowl and mix well.
Tempering-heat oil in a small pan and add the whole red chilies and fry till they become crisp.
Now remove the fried chilies from the pan and keep aside.
Add cumin and mustard seeds in the same pan,when cumin start crackling then add asafoetida and curry leaves.
Now remove the pan from the flame and add turmeric and chili powder and immedietely pour the tempering over the daal mixture and mix.
Crush the fried red chilies in small pieces and add in the daal mixture and mix well.
Serve as a snack,side dish or salad.
*If raw mango/Kairi is not available then can substitute it with lemon juice
There is no Nutrition Label for this recipe yet.