Sama ki idli -Steamed cakes made with Barnyarn millet/Varai-Vrat ka khana
Sama/samu/Varai/samak/barnyarn millet and sabudana, kuttu atta, singhora atta,rajgiri atta are mainly used as a fasting food.They are specialy consumed during Navratri,shivratri,ekadashi and on other fasting days.
There are many recipes made by using these millets and seeds.Potato,arbi/colacosia,yam are mainly used vegetables during fasting.
In my community we fast on Rishi punchmi(tomorrow)and only eat dishes made with sama.
The recipes made during fasting /Vrat ka khana ,are often deep fried or shallow fried so we consume a lot of ghee or oil.These steamed sama ke chawal ki idli are very good as they are easy to digest and taste good,serve these sama ke chawal ki idlis with healthy and delicious-fruit and nut chutney and Coconut Chutney
I have also posted few fasting /vrat recipes in my blog- -Sama ki Tikki, Sama ki khichdi, Rajgiri poori , Aloo ka halwa etc.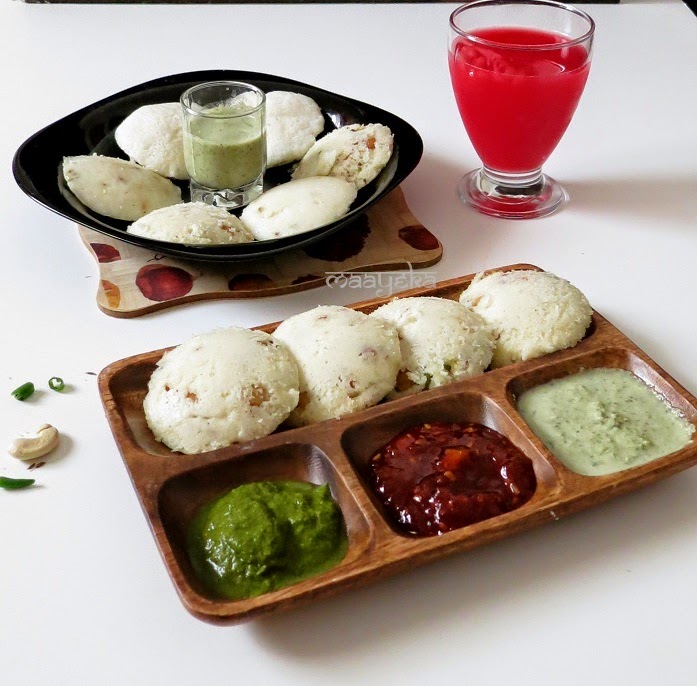 Prep time- 10 min
Cooking time- 10 min
Cuisine-Indian
Type-snack,vrat ka khana
Yields-12 idli
INGREDIENTS-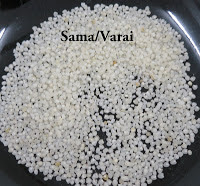 Sama/varai/moraiya- 1 cup
Yogurt- 1/2 cup
lemon juice- 1/2 tsp
Ginger,chopped- 1tsp
Salt- to taste
Fruit salt- 1/2 tsp(optional)
Tempering-
Cumin seeds- 3/4 tsp
Cooking oil- 2 tsp
Green chilies,chopped- 1.5 tsp
Cashew,chopped- 1.5 tbsp
PROCEDURE-
Wash and soak sama in enough water for 2 hours.
Now drain all the water and grind sama with yogurt and make a coarse paste.
Take out the paste in a bowl.
Heat oil in a small pan and add cashews and fry on low flame to a light golden colour.
Add the fried cashews in sama mixture.
Now add cumin and chilies in the same pan and fry till cumin become golden in colour.
Add this tempering into sama mixture.
Add ginger,lemon juice and salt in the batter and stir well.
Boil enough water in the idli steamer and grease the idli mould with oil.
When water start boiling,mix fruit salt in the sama batter and immediately pour the idli batter in the moulds.
Cover the steamer and cook for 8-10 minutes.
Now switch off the flame and  remove the plates from the steamer after 5-8 minutes.
Now with a greased spoon scoop out the idlis.
Serve with coconut chutney,tomato chutney or fruit and nut chutney.
Note-
The batter of this idli should be slightly thinner then the regular idli batter,as the sama swell up while steaming or cooking.The idli may become hard if you use very thick batter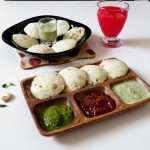 Print Recipe
Sama Ke Chawal Ki Idli