Tamarind rice- A tangy and flavourful rice -Specialty of South India
Tamarind rice/puliyohara/puliyodarai /Temple puliyohara is a specialty rice preparation of South India.There are few version of making this tamarind rice depends of every state and the taste of every household.It is a specialty from Tamil Iyengars community.
Ihis is a spicy and tangy rice preparation which is a complete meal in it self and a great travel food too.Puliyodarai  / tamarind rice is also a popular prasad offered in South Indian temples.
A spice mix is prepared by roasting selected spices and lentils and then they are mixed in tamarind sauce which is referred as -pulikaichal or puliyodarai masala.
You don't need many side dishes or accompaniments to serve along this delicious and flavourful rice,just fried papad,chips or a hot bowl of Mysore rasam or Pineapple Rasam is enough to serve along.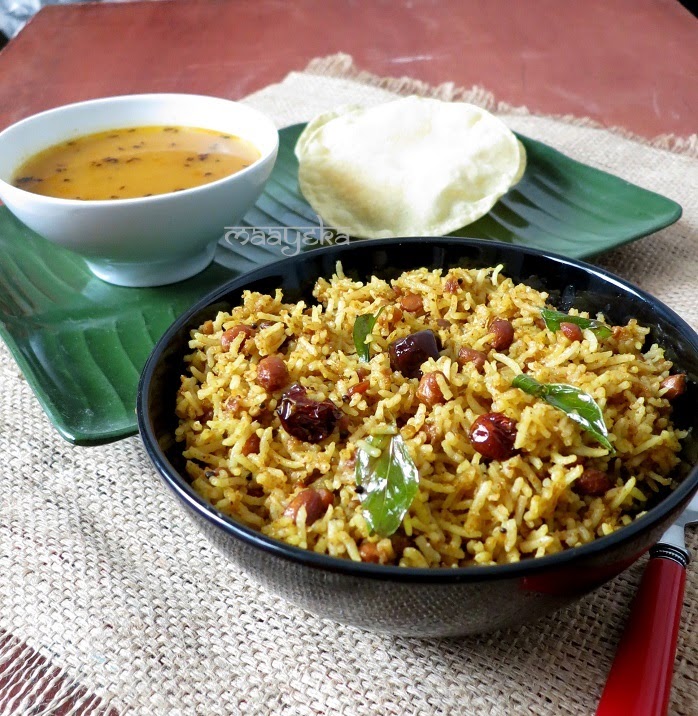 Prep time-15 min
Cooking time-30 minutes
Cuisine-South Indian
Type-main course
Serve-4
INGREDIENTS-
Tamarind mix/pulikaichal-
Peanuts/Moongphali-1/4 cup
Tamarind/Imli,soaked-size of 2 lemons
Bengal gram/Chana daal-1.5 tbsp
White lentil/Urad daal-1.5 tbsp
Curry leeaves-12
Fenugreek seeds/Methi dana-1/2 tsp
Jaggary/Gur- 2 tsp(optional)
Whole red chilies- 4
Green chilies,chopped-2
Ginger,chopped- 1.5 tsp
Asafoetida-1/2 tsp
Mustard seeds/Rai- 1tsp
Cooking oil-4 tbsp
To roast and grind-
Sesame seeds/Till-1.5 tbsp
Coriander seeds/Sabut Dhaniya-1.5 tbsp
Asafoetida/Hing-1/3 tsp
Fenugreek seeds/Methi dana-3/4 tsp
Whole red chilies-3-4
PROCEDURE-
Wash and soak rice for 20 minutes and then boil in enough water till done.
Drain the boiled rice on a colander to remove all the extra water.
In a pan add  1.5 tsp of oil and add all the ingredients for roasting-sesame seeds,coriander seeds,fenugreek seeds,whole red chili and asafoetida.
Roast them to a nice golden colour and then grind to make a fine powder.
Soak tamarind in 1.5 cup of warm water for about 15 minutes.
 Mash the tamarind well and squeeze the pulp.
Heat oil in a pan and add the peanuts and fry them on low heat till they become golden in colour.
Now add mustard seeds,urad daal,chana daal,fenugreek seeds and saute till daal become golden in colour.
Add curry leaves,whole red chilies,green chilies,asafoetida, and turmeric and saute.
Then add the tamarind pulp ,jaggary,ginger and salt and cook on medium heat .
Cook till the mixture started to thicken and oil start floating on the sides of the pan.
Now add the boiled rice and the ground spice mix and mix every thing gently.
Cover the pan for minimum 1 hour so rice will absorb all the flavours and the daal used in tempering will soften a bit.
Serving suggestions-serve along with some papad,chips,curd or rasam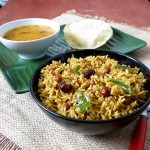 Print Recipe
Tamarind Rice /Puliyodharai