Sandwich Dhokla- Dhokla -Savoury steamed lentil and rice cake-specialty from the state of Gujarat
Sandwich Dhokla is a specialty of Gujarat but now very popular all over India.There are so many types and versions of making dhoklas,they can be made with gram flour,semolina,mixed grains, lentil and rice and many more combinations.This is a favourite snack of my family so I often make different versions.
I have already posted –Khatta dhokla , Sooji dhokla, and Stuffed masala dhokla, and today I an sharing sandwich dhokla which is made with rice and urad daal and a thick layer of mint and coriander chutney is applied between the two layers of dhokla.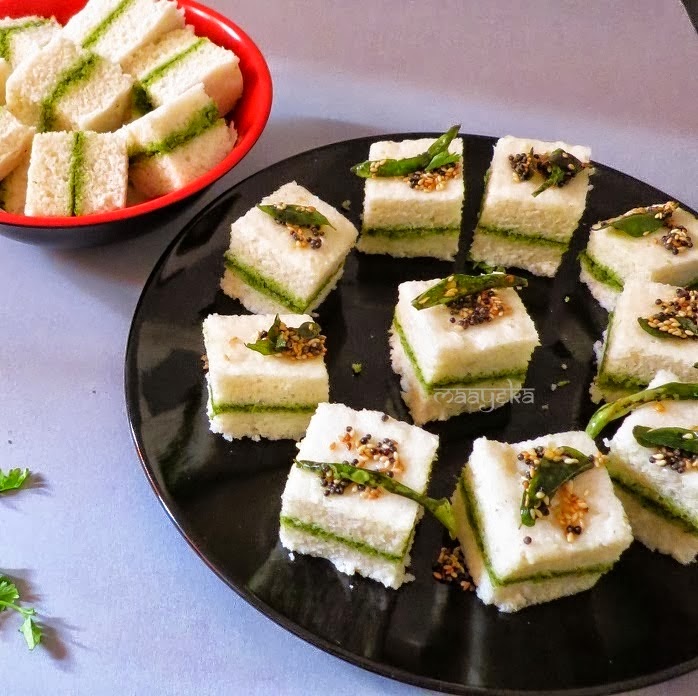 Prep time-15 min
Cooking time-15 min
Cuisine- Indian,Gujarati
Type-snack,breakfast
Serve-6
INGREDIENTS-
Rice -2 cups
White lentil /Urad daal-1 cup
Nimbu phool/Citric acid/tatri-1/4 tsp
Soda bi carb- a pinch of
Salt-to taste
Thick Green chutney-1/2 cup
Cooking oil- 2 tsp
Tempering/waghar/Tadka
Cooking oil- 3 tsp
Mustard seeds /Rai-1 tsp
Sesame seeds/Till- 1tsp
Curry leaves-10
Green chilies,chopped- 1tsp
PROCEDURE-
 Wash and soak rice and urad daal in enough water for 7-8 hours.
Now drain the water and wash rice and daal in fresh water .
Grind rice and daal to make a smooth paste like idli batter.
Add tatri, salt and 2 tsp of oil in it and mix well and let the batter ferment overnight or for 8-9 hours.
In a bowl take 1/4 tsp of soda/eno,1 tsp oil and 2 tsp water and mix well.
Add this mixture in the fermented batter and mix gently.
Boil some water in a steamer and grease the dhokla plates.
When water start boiling pour the batter in 2 greased plates.
Arrange these plates in the steamer and cover the steamer with a lid.
Steam it for 10 minutes on high heat.
Take out the plates from the steamer and unmould after 2-3 minutes.
Now apply chutney on one dhokla (on the rough side).
Place other dhokla over it(keep the rough side over the chutney)
Now gently roll it with the rolling pin,so both the layers will stick properly.
Heat oil in a small pan and add the tempering ingredients.
When sesame become golden then remove it from the heat and add 2 tsp of water in it.
Pour this tempering over the dhokla sandwich.
Cut dhokla in squares or diamonds pieces.
Garnish with chopped coriander and serve.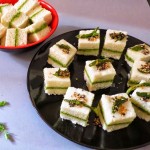 Print Recipe
How To Make Sandwich Dhokla