Vangi bhath-Tangy and flavourful rice cooked with sauted brinjals and special spice mix
Vangi bhath is a specialty rice preparation of Karnataka ,Andhra pradesh and Maharashtra.The main ingredient of vangi bhath is rice,sauted or fried brinjals and a very flavourful spice mix-vangi bhath powder.
The addition of goda masala in Maharashtrian vangi bhath makes it different from South Indian style of making BRINJAL bhath. Use of fresh vangi bhath powder is preferred for a nice aroma and taste but you can also use readymade vangi bhath powder.
Do try these delicious Pulao recipes-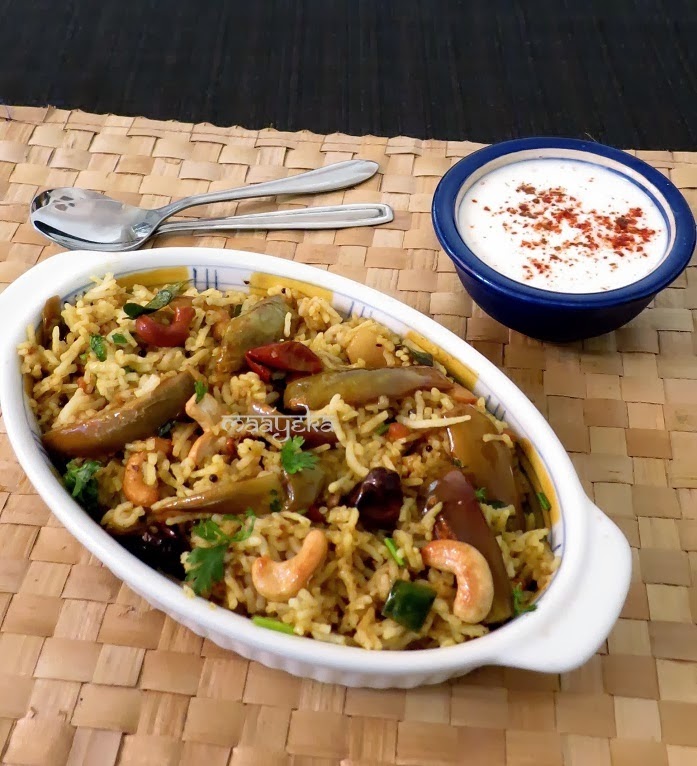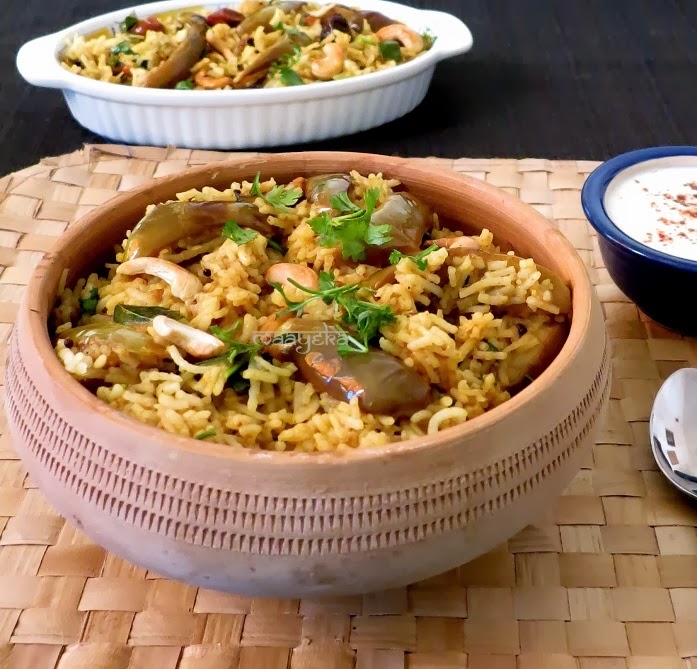 Prep time- 15 min
cooking time-20 min
Cuisine-Indian,south
Type-Main
Serve-5
INGREDIENTS-
Rice- 1.5 cup
Baby brinjals/Baigan-10
Jaggary/gur- 1 tbsp
Tamarind pulp/Imli-2 tbsp
Salt- to taste
Turmeric /haldi-1/2 tsp
Fresh coriander/hara dhaniya- 2 tbsp
Spice mix/Vangi bhath powder-(or use readymade powder)
Bengal gram/chana daal-1.5 tsp
White lentil/urad daal-1.5 tsp
Whole red chilies-4
Cumin seeds/jeera- 1tsp
Whole corinader/sabut dhaniya- 1.5 tbsp
Pepper corn/kali mirch-10
Cloves/Laung-2
Cinnamon/daalchini- 1/2 inch
Fenugreek seeds/methidana- 1/4 tsp
Dessicated coconut/sookha nariyal burada- 1.5 tbsp
Tempering/Waghar/tadka
Cashew nuts/Kaju-12
White lentil/Urad daal-1 tbsp
Bengal gram/chana daal-1 tbsp
Mustard seeds/Rai-1 tsp
Curry leaves-12
Whole red chilies-4
Asafoetida/hing- 1/2 tsp
Green chilies,chopped- 1tbsp
PROCEDURE-
To make Vangi bhath powder-Heat 1 tsp oil in a pan and add chana daal and urad daal and saute till they become light pink.
Now add all the ingredients except coconut and saute till nice and golden.
Then switch off the flame and add dessicated coconut and mix.
Grind to make fine powder when it cool down completely.
Vangi bhath-Boil enough water in a pan,add a tsp of salt .
When water start boiling add soaked rice and cook till done and then strain on a colander to drain all the water.
Take 3 tbsp of oil in a heavy bottom pan and add the sliced or cubed brinjals.
Saute till brinjls are 80% done,remove from the pan and keep aside.
In the same pan add 1 tbsp of oil and add the lentils for tempering.
When lentil become golden add cashew or peanut and saute till become golden.
Now add green chilies,curry leaves and whole red chilies and saute.
Now add  brinjals,about a cup of water,jaggary,tamarind pulp,salt,turmeric and 3 tbsp of vangi bhath powder and let it simmer for 5 minutes.
When brinjal cooked completely then add cooked rice.
Mix well and then add fresh coriander.
Serve hot garnished with fried cashew and few fried brinjal slices.
Serving suggestions-serve vengi bhath with yogurt and papad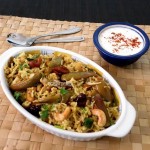 Print Recipe
Vangi Bhath Recipe / Brinjal Rice