Potatoes cooked in a thin and spicy broth-Potato curry from my Home town Mathura
Potato is the only vegetable which is cooked and loved by everyone in the world.We Indians use and make many versions of potato curry ,every state has its own special style of making them.
Though I have posted few potato curries in my blog,but don't know how I forgot to post the famous and special –Mathura ke dubki wale aloo.This spicy and thin curry is the speciality of my Home town Mathura . khasta kachoris served with this aloo curry and hot jalebis are the favourite breakfast of the people of Mathura,every morning you will find snack shops,hawkers ,stalls selling this aloo subzi with khasta kachoris and people queuing out side the shop for their chance.
In All the weddings and other functions of Mathura,the menu is incomplete without this potato subzi,as addition of so many fresh herbs and spices make it good for digestion.
This is also served on the Railway stations with hot Poori's as station wali aloo subzi.
If you love potatoes then check- Aloo matar,  Achari aloo , Dahi ke aloo , Dum aloo masala , Aloo tuk 
The speciality of this aloo curry is the use of fresh spices and herbs and then it is simmered for a long time,so the curry absorb all the flavours .Traditionaly this curry is made thinner but you can increase the quantity of potatoes if you want to serve as Aloo poori combo.
This is best served with Urad daal ki khasta kachori and sweet and sour pumpkin curry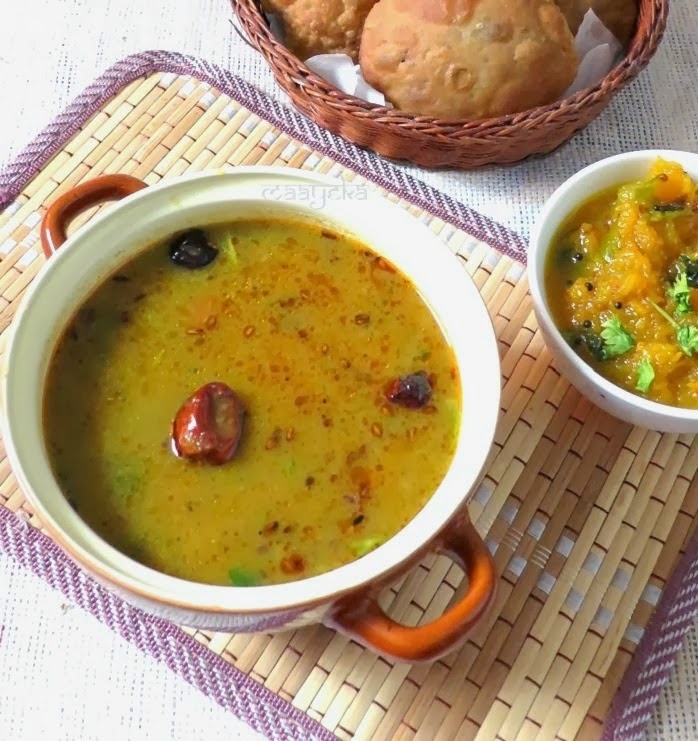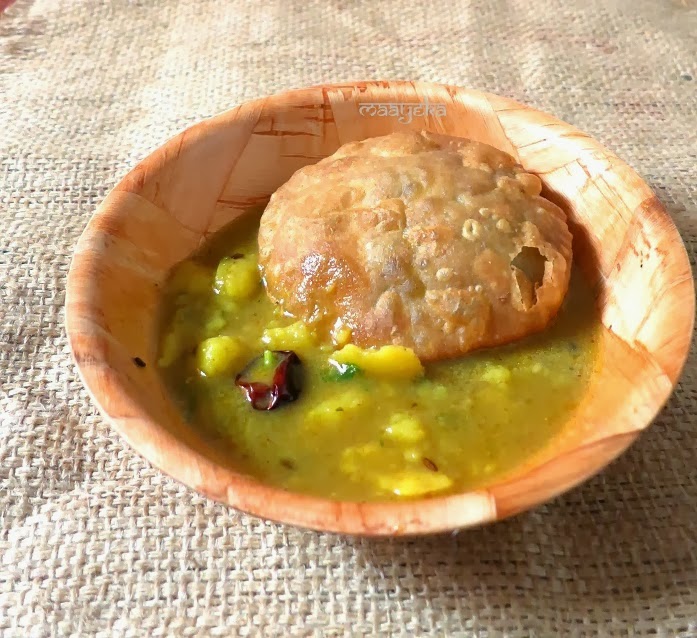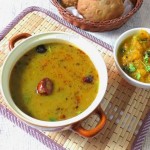 Peel boiled potatoes and mash them roughly.

Take a big and heavy pan and add mashed potatoes in it.

Add all the whole spices (listed in- to grind) in a small mixer jar and grind to make fine powder,then add green chilies ,ginger and spinach and grind all together.

Now add this paste in the potatoes,add water and all the spices in it.

Mix well and cook on medium heat till it start boiling.

Add refined flour in 1/2 cup of water and mix well.

Add this refined flour mixture in the boiling curry and stir and mix well.

Let the curry cook for about 40 minutes on medium heat.keep stirring in between so potatoes will not stick at the bottom of the pan.

Heat oil in a small cooking pan and add cumin seeds when cumin start crackling add whole red chilies and asafoetida.

Remove the pan from fire,wait for few seconds then add kashmiri chili powder and pour this tempering on the boiling curry.

Switch off the flame,add chopped coriander and cover the pan.

Rest for 15 minutes and then serve.
Serving suggestions-Best served with and pooris, khasta kachori or bedvi
MY NOTES-
Traditionaly this aloo ki subzi is made in a iron kadhai/pan, however I have made it in a steel pan,but for that authentic dark colour try to make it in a iron kadhai.
You can add readymade garam masala but freshly ground garam masala makes a lot of difference in the taste.
Refined flour/maida is added to add some texture to the gravy,a tip shared by a chef of Mathura,but this is optional if you like thin watery gravy then can skip this.
Can increase the amount of potatoes to make a thicker curry.
There is no Nutrition Label for this recipe yet.