Mildly spiced Yellow lentil and Rice khichdi-Uttar Pradesh Style
Khichdi or Khichuri is a comfort food or food for soul.So easy to prepare and very good for digestion.Khichuri is made with the combination of rice and lentil.There are so many ways to make khichuri,every state and family have their own favourite recipe of making khichdi.
This moong daal khichdi can be made with the combination of almost every daal i.e moong daal, green moong daal chilka,tuvar daal ,chana daal,urad daal or with a mixture of all daals/lentils.The ratio of daal and rice also depends on individual choice.The consistency of khichdi also vary,some like to make it dry like pulao,some make it soft like porridge(like I do) and some make it very thin and watery.
Moong daal khichdi is also very good for babies and for the patients just recovering from illness as it is light on stomach and easily digestible,in that case reduce the amount of spices and fat and make it slightly soft and thinner.
There are 4 main accompaniments to serve with khichdi. As a popular saying-Khichdi ke chaar yaar-ghee ,papad,dahi ,achar, so you just need a bowl of yogurt, popadam, ghee and some pickle  to enjoy with a hot bowl of khichdi.
I serve khichdi with –Palak raita,  Punjabi mango pickle and Muji chatin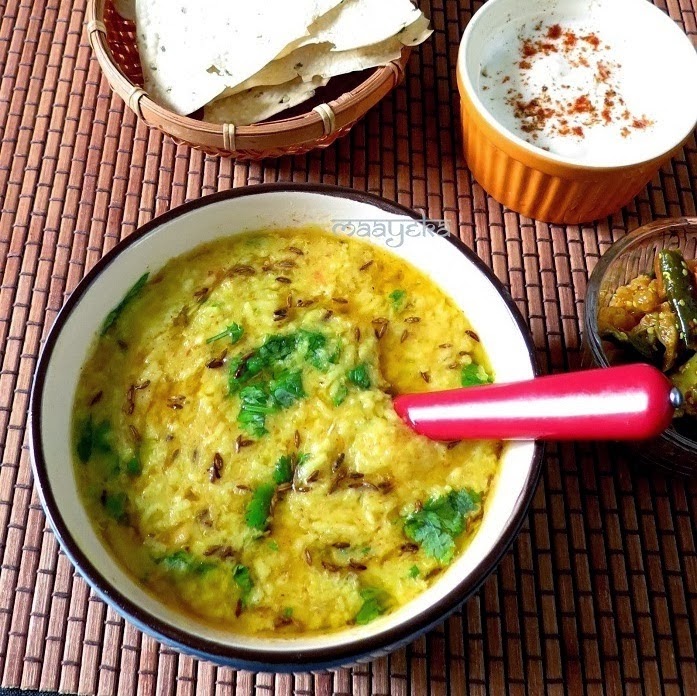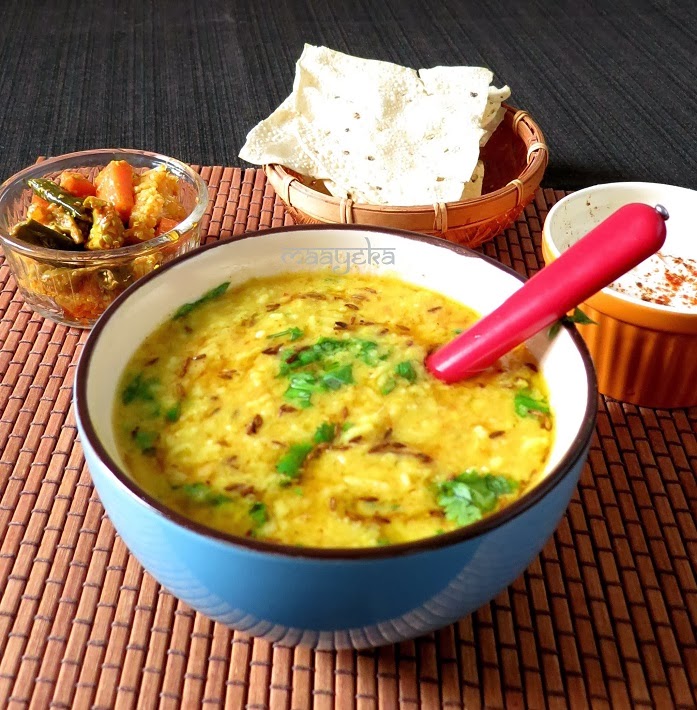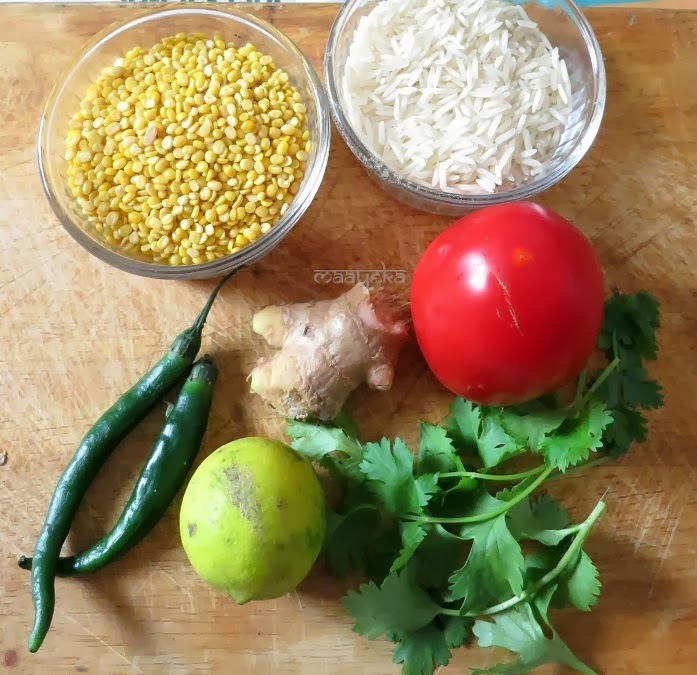 Prep time-10 min
Cooking time-20 min
Cuisine-Indian
Type-main
Serve-4
INGREDIENTS-
Yellow lentil/Moong daal- 3/4 cup
Raw rice-3/4 cup
Tomato,chopped-1
Green chilies,chopped- 1tsp
Ginger/Adrak,chopped- 1.5 tsp
Lemon juice- 1 tbsp
Fresh coriander,chopped- 2 tbsp
Turmeric/Haldi-1/2 tsp
Chili powder/Mirch- 1 tsp
Coriander powder/Dhaniya- 1tsp
Salt- to taste
Cumin seeds/Jeera -1.5 tsp
Asafoetida/Hing- 1/2 tsp
Ghee- 2.5 tbsp
PROCEDURE-
Wash rice and daal 2-3 times with enough water.
Now soak them together in 3 cups of water for 15 minutes.
Add soaked rice,daal (along with the water in which it is soaked ) 1 chopped tomato and 1 tsp of ghee in the pressure cooker.
Pressure cook on medium heat for 3 whistles or cook till it become soft and mushy.
When cooker cool down completely open the cooker and mash it with a laddle.
Now add 3.5 cups of hot water in the cooker and mix well.
Add salt,turmeric, chili powder,coriander powder,chopped green chilies and ginger.
Mix well and cover the pan with a lid to avoid spluttering and let it simmer for 10 minutes.
Heat ghee in a small pan and add cumin seeds and asafoetida
When cumin become golden ,remove from the flame, add a pinch of chili powder and pour over the khichdi and mix.
Now switch off the flame and add lemon juice and chopped fresh coriander and mix.
Serve hot with a spoon ful of ghee on top.
Serving suggestions-serve hot with yogurt,papad,salad,pickle and chutney
NOTE-
1-You can also add a cup of chopped mix vegetables,i.e carrot,peas,beans,capsicum,bottle gourd etc at step 3 ,to make it more healthy,nutritious and filling one pot meal.
2-You can add some more water at step -6 if you want to make it thin and watery.
3-Can also make this with split green gram daal(moong daal chilka)
4-This khichdi will tend to thickens as it cools down, if it happens then add some hot water and give it a boil before serving.
There is no Nutrition Label for this recipe yet.