Stir Fried Radish and walnut salad -A specialty of Kashmir
Muji chatin is a popular recipe from Kashmiri Cuisine.it is made by sauteing grated raddish in mustard oil,This is like a crisp salad or a side dish. Radish is called muji in Kashmir.Though it is not ground to make a paste like regular chutney but still it is referred as chutney.The use of mustard oil gives  a pungent and smoky taste in Muji chatin and only salt and kashmiri chili powder are added into it. Addition of walnuts and lemon juice depend on individual choice.There is one more variation of making Mujj chatin which I will post later.
This Muji chatin can be served with daal,rice combo or chapati and curry and the leftover chutney can be used to stuff in parathas.
I have also posted Kashmiri- Nadru yakhni,  Chokh Vangun and Al yakhni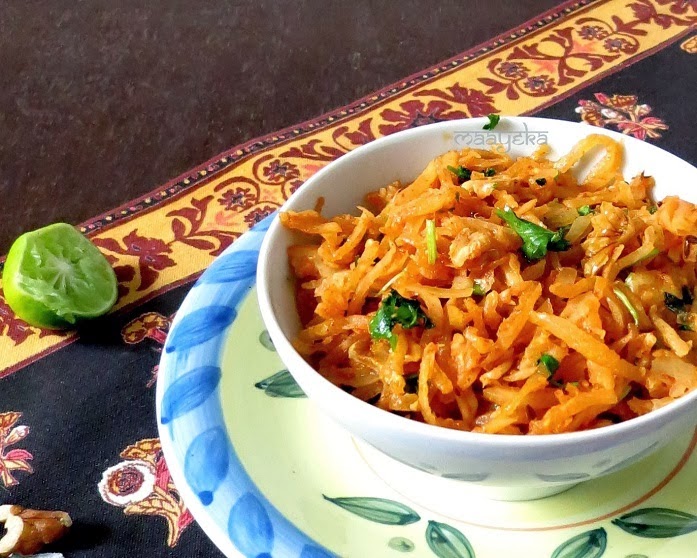 Prep time- 8 min
Cooking time -5 min
Cuisine-Indian,Kashmir
Type-side
Serve-4
INGREDIENTS-
Daikon Radish/mooli, grated -2 cups
Walnuts,crushed – 1.5 tbsp
Green chilies,chopped – 3/4 tsp
Fresh coriander,chopped -1.5 tbsp
Lemon juice – 1.5 tsp
Dry ginger powder /Saunth – 1/3 tsp
Kashmiri chili powder – 1tsp
Cumin seeds /Jeera – 1/2 tsp
Carom seeds /Ajwain -1/4 tsp
Asafoetida/hing -1/4 tsp
Salt -to taste
Mustard oil – 1.5 tbsp
PROCEDURE-
Scrape and grate radish with a thick grater.
Heat oil in a pan and then add cumin ,carom and asafoetida.
When cumin start crackling add chopped green chilies,chili powder and grated radish.
Stir fry on high flame for 2 minutes.
Add salt and ginger powder and stir fry for about 2-3 minutes.(to remove all the moisture)
Take out in a bowl and let it cool down slightly.
Add lemon juice, crushed walnuts and chopped coriander.
Serve hot or cold
There is no Nutrition Label for this recipe yet.