Refreshing Grape, lemon and mint drinkAs summers have just started and we all try to make different types of juices and drinks to combat the heat.
Though there are vast number of ready to make drinks and juices available in the market but still we all prefer to make fresh juices at home.
Grapes are among the most delicious and beneficial fruit,it not only taste great and but are loaded with nutrients.They aids digestion,cure constipation,good for anemia patients,kidney disorders and many more.It is a great source of anti oxidants.
I tried this simple and delicious drink with purple grapes ,mint and a hint of ginger,and we all liked it.
I have also posted –Raw mango and Mint drink , Saffron and almond drink , Pomegranate Cooler
Kokum Sharbat and many more summer drinks in my blog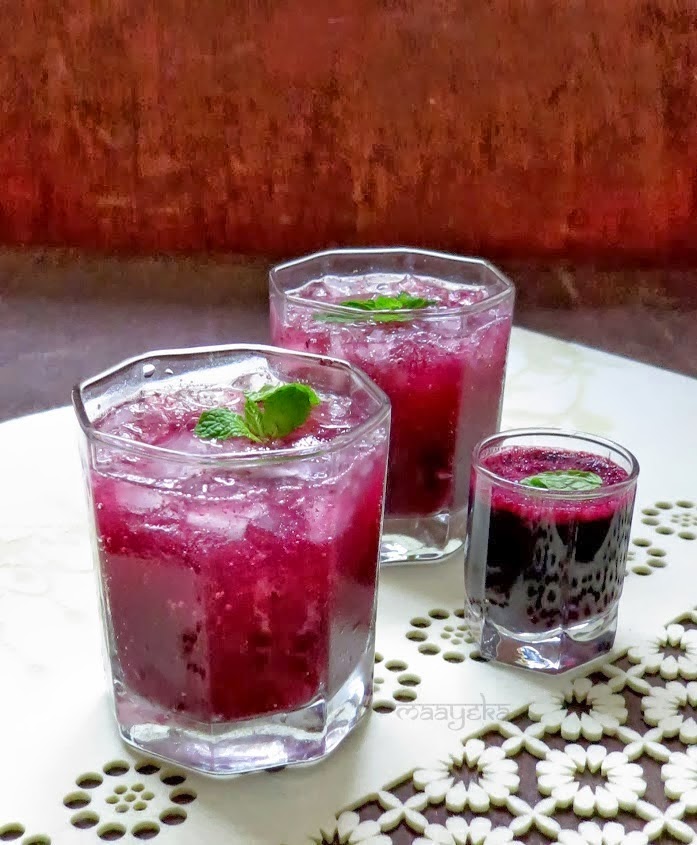 Prep time-10 min
Cuisine-Indian
Type-beverage
serve-3
INGREDIENTS-
Seedless Purple grapes- 1 cup
Fresh mint leaves-12
Ginger,chopped-1/2 tsp
Sugar- 1 tbsp
Black salt-1/3 tsp
Roasted cumin-1/2 tsp
Aerated lemon drink-1.5 can
PROCEDURE-
Wash the grapes and mint thoroughly.
Add all in the ingredients in the blender(except lemon drink)
Grind to make a smooth paste.
Sieve with a juice strainer .
Fill the serving glasses 1/3 with this syrup.
Add some crushed ice and then pour aerated lemon drink to fill the glass.
Garnish with mint leaves and serve chilled.