Lauki Ki Kheer- Healthy and delicious Bottle gourd and milk pudding
Lauki ki kheer- /dudhi/Bottle gourd is a very healthy vegetable and can be used to make many healthy and delicious preparation.
What's make this veggie so popular these days is its benefits on the treatment of high blood pressure and heart disease. lauki is 96% water so is light on stomach and aids digestion,cure acidity,ulcers,Jaundice,reduce body weight and many more health benefits.
Though their are many who don't even like the mention of this humble vegetable,but luckily every one at my home likes bottle gourd. So I make so many varieties from lauki – Lauki chana daal subzi, delicious Lauki ke kofta , and the simple yet delicious lauki moong daal subzi are among the few easy and healthy recipes which I regularly make from lauki .
Delicious and healthy dessert can also be made with lauki-Lauki ka halwa is a popular dessert.This simple and easy lauki ki kheer can also be used during fasting .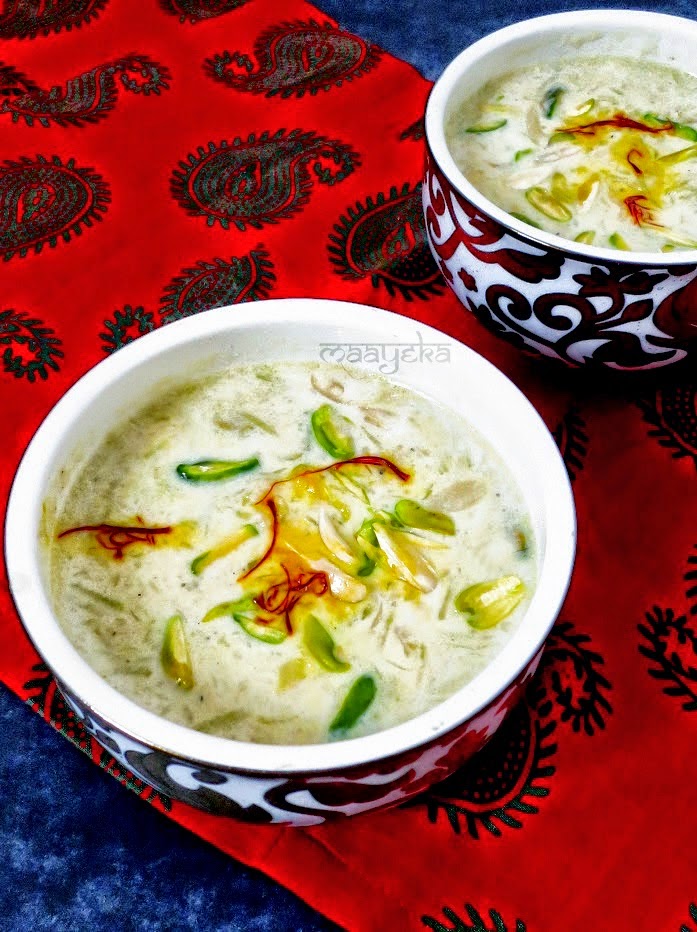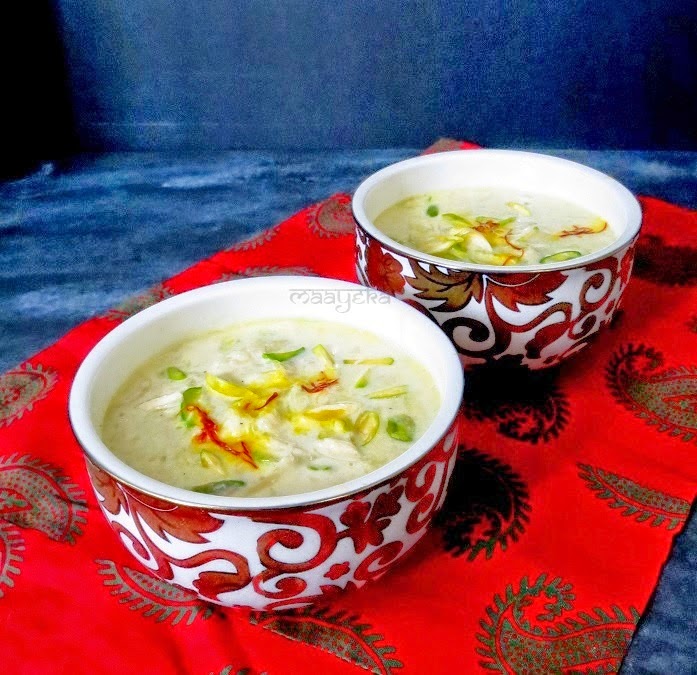 Prep time-10 min
Cooking time- 45 min
Cuisine-Indian
Type- dessert
Serve-4
INGREDIENTS-
Full fat milk- 1 liter
Bottle gourd /Lauki,grated- 4oo gms
Sugar-1 cup or according to taste
Cardamom powder- 1/3 tsp
Rose water- 2 tsp
Ghee- 1.5 tbsp
Almonds- 8
Pistachio-8
Saffron-few strands
PROCEDURE-
Boil milk for 10 minutes in a pan on low flame.
Peel and remove all the seeds from lauki.
Grate it with a fine grater.
Squeeze the grated bottle gourd to remove extra moisture(you can use this water to make chapati dough)
Heat ghee in a heavy bottom pan.
Add grated bottle gourd in it and stir fry on medium heat for about 5 minutes .
Add milk in the bottle gourd pan.
Simmer for about 30 minutes,keep stirring in between.
Now add sugar and chopped nuts and simmer for 10 minutes.
Switch off the flame and add cardamom powder.
When kheer cool down completely then add rose water in it.
Garnish with saffron and few chopped nuts.
Serve chilled or warm.
You can also follow me on Pinterest , Facebook , Twitter and Instagram for more delicious recipes and updates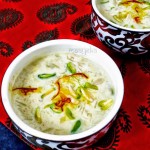 Print Recipe
Lauki Ki Kheer, Bottle Gourd Pudding - Navratri Special Recipe
Lauki Ki Kheer- Healthy and delicious Bottle gourd and milk pudding