Okra cooked with tomato and Indian spices
Okra or bhindi is a seasonal vegetable, easily available during summer season,though now we get most of the vegetable through out the year but seasonal vegetable have a special taste.Bhindi is usually everybody's favorite vegetable,specially kids like it the most.
Those who avoid okra is just due to its sliminess ,which can be easily avoided if cooked properly. People usually make 2 mistakes due to which okra becomes slimy the first is wet raw okra , it is essential to wipe dry the okra before chopping , you should never wash it after chopping , and second is u should not add water to the dish while cooking as that to shall increase the sliminess of the dish , if these two steps are taken care of rest assured you will enjoy okra as much as i do.
Another step to remove the sliminess is after tempering it in oil saute it for some time before covering it with a lid and the last tip is to add some mango powder to give taste and to avoid sliminess and yes don't over cook it.
Every one in my family loves them specially my kids love every preparation of okra so I often make bhindi –bhindi kadi , kurkuri bhindi and bhindi aloo are their  favourite dishes.This Bhindi masala is a easy and popular recipe .It is a most ordered dish of every restaurant menu . The secret to this awesome recipe is the addition of a little sambhar powder which gives a nice flavor to the dish.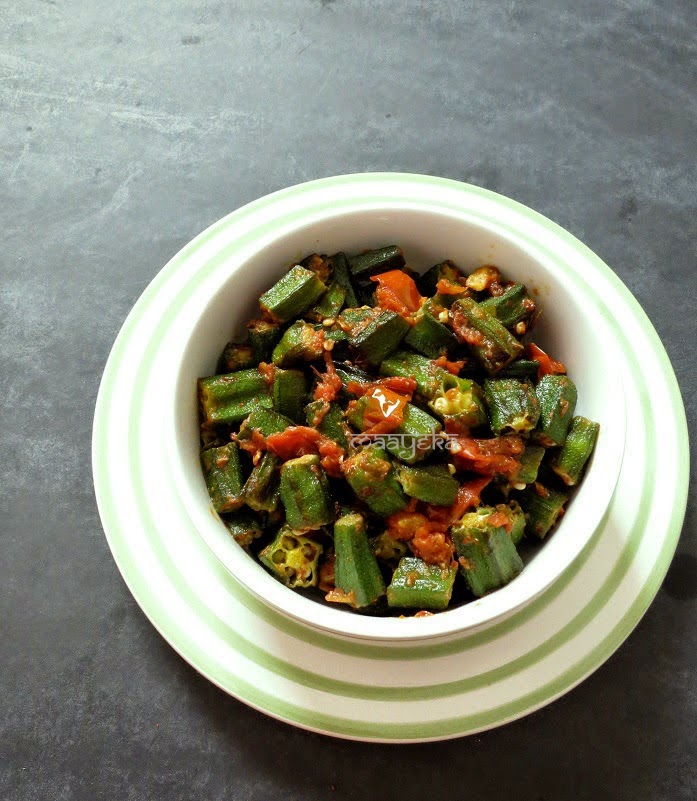 Prep time-15 min
Cooking time-10 min
Cuisine-North Indian
Type-side
Serve-4
INGREDIENTS-
Bhindi /okra – 300 gm
Ginger/adrak -1/2 tsp
Green chilli, chopped -1
Tomato, chopped – 1 cup
Cumin /jeera -3/4  tsp
Turmeric /haldi -1/2 tsp
Chilli powder-1 tsp
Coriander powder -1 tsp
Sambhar masala -1 tsp
Mango powder/amchoor -1/2 tsp
Salt -to taste
Cooking oil -3 tbsp
PROCEDURE-
Wash and wipe lady fingers with a kitchen napkin .

Trim the ends and make a slit in between and then chop it into big pieces.

Chop tomato and green chilli and grate the ginger.

Heat 2.5 tbsp oil in a pan and add chopped bhindi and saute for 2 minutes on medium heat.

Remove bhindi from the pan and keep aside.
Now add 2 tbsp of oil in the pan and add cumin seeds.
When it crackle then add chopped green chilis and stir.
Add chopped tomatoes and salt then cover and cook.
When tomato become soft,add all the spices except mango powder.
Stir for a minute then add bhindi and mix well .
Cover with a lid and cook on slow heat  till done.
Now add mango powder or 1 t.s lemon juice and mix well.
Serve  hot with roti, paranthas aur rice
Variation-
You can deep fry bhindi in hot oil and then add in the fried masala ,cover and cook for 2 minutes
There is no Nutrition Label for this recipe yet.