Thin and mildly spiced potato and lentil nuggets curry – Specialty from Rajasthan
Rajasthani cuisine is famous for its spicy and rich food. Due to the hot climate fresh vegetables was not easily available in Rajasthan during hot summer months so mangodi and sun dried vegetables are preferred to make curries.
Mangodi /bari are sun dried lentil cakes or nuggets,they are made by soaked and ground lentils and then few spices are added into it to give taste and flavors.These mangodis are made on a polythene sheet and then sundried for 2-3 days and then they are roasted and used to make subzi and kadis. we also use mangodi /bari in making- Methi mangodi Nu Shaak,  Aloo mangodi ki kadi ,and Mangodi aloo matar ki tehri pulao.
This aloo mangodi curry is made thin like a soup ,but some also like it slightly thick ,depends on individual preference.This aloo mangodi subzi is best served with rice, aloo tehri ,khichdi and chapati.This is a specialty from Rajasthan and Uttar Pradesh.
I have also  posted –how to make moong daal mangodi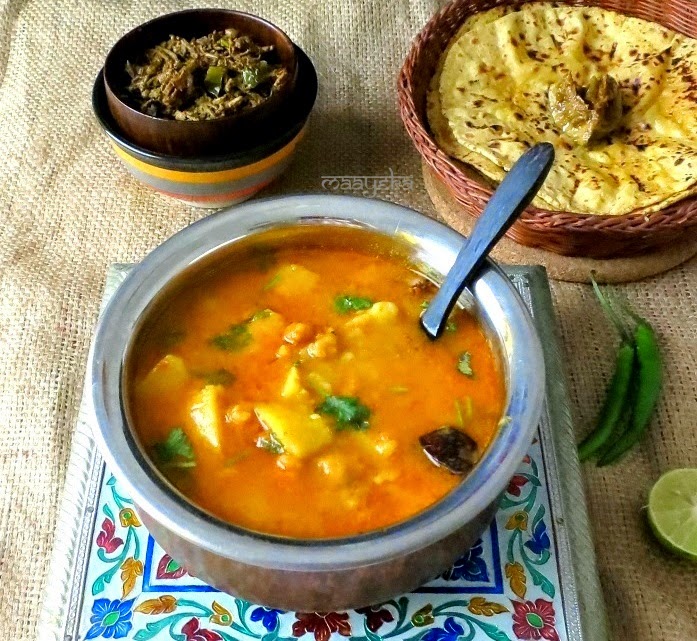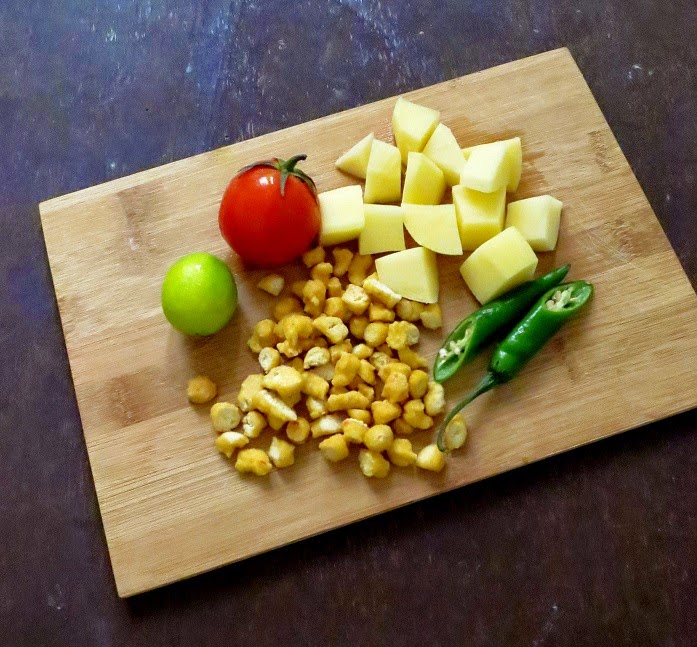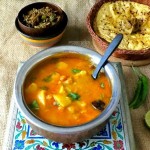 Wash peel and chop potato in small pieces.

Grind tomato,green chilies and ginger and make a paste.

Heat oil in the pressure cooker and add mangodis and cumin seeds.

Fry till mangodis and cumin become golden.

Now add cloves ,asafoetida and whole red chilies and saute.

Add tomato puree in the cooker and fry for a minute.

Add all the dry spices and yogurt and saute till oil start separating from the masala.

Now add chopped potatoes and stir for a minute.

Now pressure cook on medium heat till 4 whistles (or till potato cooked completely)

When it cool down then open and slightly mash the curry.

Give it a boil on medium heat (with out covering the pan)

Now add lemon juice and fresh coriander and serve hot.
Note-
1-Pressure cooking time depends on the size of potatoes and quality of mangodis.
2- If the mangodis are readymade then you can pressure cook or boil them before adding in the curry because sometimes readymade vadis have besan added in to it so they are not as soft as home made vadis as addition of besan makes them hard.
3-You can reduce the quantity of potatoes if you want to make it thinner ,but avoid making it too thick,as it taste best with a thin gravy,but you can adjust according to your taste.
4-Instead of making tomato puree you can also add chopped tomato,chili and ginger at step-6Serving sugesstions-serve aloo mangodi ki subzi with khichdi, tahri ,daal rice combo and chapatis
There is no Nutrition Label for this recipe yet.