Idli Milagai Podi- Flavorful and delicious spice powder made with roasted lentil and spices
Idli Milagai podi or malgapodi is a popular powder/chutney/podi of every south Indian kitchen.It is a nice accompaniment to serve with dosa ,idli,adai and vada. When ever I go to any south Indian restaurant  I love the malgapodi more then the chutnies served with idli and dosas.When I met a south Indian friend of mine she shared her family recipe with me.
Though there are many recipes to make milagai podi and every family has their own traditional family recipe but the main ingredients remains the same, just different ratios of ingredients or few more or less ingredients to be added . Addition of tamarind , jaagary and curry leaves is optional in Milagai podi  ,you can add or skip them .
Traditionally idli Malga podi is served mixed with little sesame oil but you can use ghee or have plain like I do. Idlis smeared with malga podi and ghee taste wonderful and also very good to pack in kids lunchbox .
Idli podi is mostly serve along Dosa,Idli ,Vada and adai but loved it mixed with hot steamed rice and some ghee or even with roti and parathas. This spicy and flavourful Milagai podi goes well with almost every thing, Milagai podi  is also a very good accompaniment as a dry chutney and easy to carry along for travelling and journey.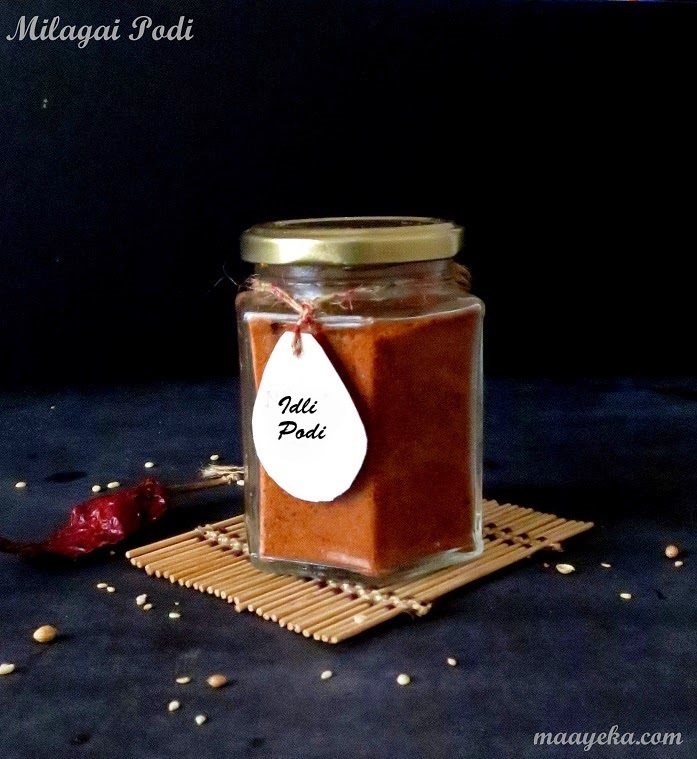 Prep time -20 min
Difficulty level – easy
Spice level – medium
Cuisine – South Indian
Type – powder,side
yield – 1.5 cup
INGREDIENTS-
 Bengal gram /chana dal -3/4 cup
White lentil /urad daal -3/4cup
Kashmiri red chilis/lal mirch -15
Sesame seeds / till – 1/4 cup
Methidana /fenugreek seeds- 1 tsp
Mustard seeds- 1/2 tsp
Whole coriander seeds/sabut dhaniya -2 tbsp
Salt /namak – 1.5 tsp
Asafoetida- /hing – 1/2 tsp
Dry tamarind /Imli -2 tbsp
Jaggary /gur -2 tbsp
Cooking oil – 1 tsp
Whole pepper corn /sabut kali mirch – 10
Dried curry leaves-1 cup
PROCEDURE-
In a pan add oil and both lentils/daal.
Roast till they become red in color.
Now remove the roasted daal from the pan and keep aside.
Add sesame seeds, coriander seeds and peppercorns in the pan and dry roast till they give a nice aroma.
Remove from the pan and keep aside
Dry the curry leaves in the microwave for a minutes or dry under the fan.
Add 2 tsp of oil in the pan and add the kashmiri red chilies and roast for a minute on low heat.
switch off the flame and then add the curry leaves and asafoetida and stir for few seconds .
Let  the ingredients cool down completely.
Grind the roasted ingredients, jaggary, salt and tamarind  in the mixer to make a coarse powder.
Store in an air tight jar.
Serving suggestions-Mix with little ghee or sesame oil or use just as a dry powder to serve with idli, dosa or vada.
NOTE-
Addition of jaggary and tamarind is optional,depends on individual taste and preference, tastes great both ways.
You can also follow me on Pinterest , Facebook , Twitter and Instagram for more delicious recipes and updates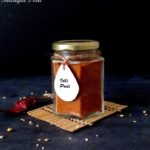 Print Recipe
Idli Milagai podi /Malga podi