Urad Daal khasta Kachori /Bedmi Poori /Spicy Lentil Puffs -Specialty from the state of Uttar Pradesh and Rajasthan


Urad daal khasta kachori -Kachoris with Pumpkins and Potatoes is to Uttar Pradesh, what Misal Pav is to Mumbai, Aloo Parathas and Lassi to Punjab and Sambhar and Idli to Chennai. The essential heavy and hearty breakfast!

Kachoris are mainly made with refined flour. A Spicy stuffing of lentils or vegetables are stuffed in the small portion of dough and rolled into medium thick disc and then deep fried in hot oil. Urad daal khasta kachori are  very popular in the state of Uttar Pradesh and Rajasthan.
For making these khasta kachori first the Urad daal/white lentil is soaked and coarsely ground and then a mix of different spices are added in the filling. The main spice is fennel seed /saunf which should not be missed , asafoetida also gives a nice flavour and must add ingredients.
These crisp and delicious urad daal khasta kachori are best served with special-Mathura ke dubki waley aloo ki subzi and khatti methi kaddu ki subziI have also posted –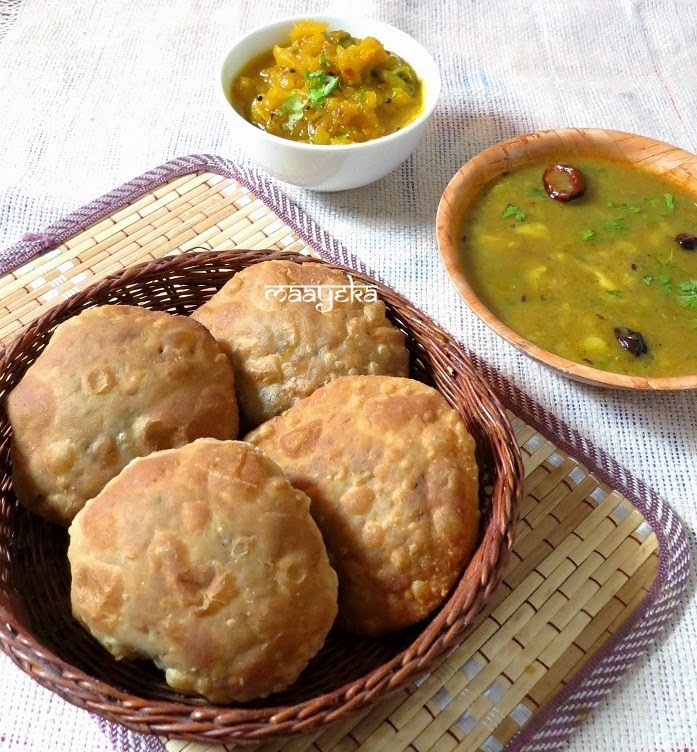 Prep time-15 min
cooking time-15 min
Difficulty level-medium
spice level-medium
cuisine-North Indian
type-snack
INGREDIENTS
For the shells: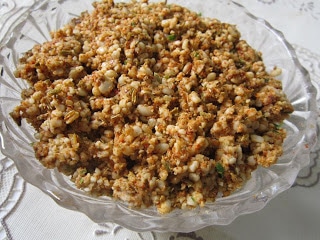 Refined Flour /Maida – 250 gms
Semolina /Sooji – 2tblsp
Salt – 1 tsp
Cooking oil – 50ml
For the Stuffing:
White lentil/Urad daal(white) – 1/2 cup
Fennel seeds /saunf ,Crushed – 2 tblsp
Chilli Powder/lal mirch – 2 tsp
Green Chillies /hari mirch- 2
Ginger grated  /adrak- 1 tsp
Garam Masala – 1/2 tsp
Asafoetida /hing- 1/2 tsp
Coriander Powder /dhaniya- 2 tsp
Baking soda – 1/4 tsp
Oil – 1 tsp
PROCEDURE :  
Take the refined flour and semolina in a bowl, add salt and refined oil, mix well
Add water to make a soft dough and keep aside.
Wash and soak urad daal for 4 hours, then drain and wash well.
Coarsely grind the urad daal, fennel, chopped green chillies and ginger in a mixer .
Take this mix in a bowl and add red chill powder, coriander powder, asafoetida, 1 t.s oil and mix well (it will look like the picture on the right).
Add soda bi carbonate to this mixture just before you start making kachoris .*
Take a small walnut sized ball of the dough, flatten it and stuff 1 tsp mixture in it and seal the edges.
Roll it a bit to make a  thick kachori (about the size of a small waffle).
Heat oil in wok,  Then add the kachoris to the oil, and turn down the flame to medium. Every few seconds, flip the kachoris so that they are cooked form both the sides. Fry till both sides are brown and crispy and the kachori is puffed completely.**
NOTE-
1-*Soda bi carbonate is added to ensure that  all the kachoris puff up well.
2- * *If you put the kachori's in hot oil and if it puffs up before turning the side, chances are that the daal masala will stick only to one side of the kachori,but if you turn it over once in the oil, before it starts puffing, then the masala will be on both the sides.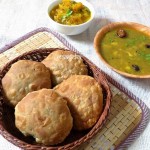 Print Recipe
Urad Daal ki Khasta Kachori (Bedvi) / Deep fried Lentil Shells