Grated cauliflower cooked with green peas,tomato and mild spicesMost of us love the beautiful,delicious and versatile vegetable-cauliflower and is also a favourite veggie of my family.I often make stir fries,curries and parathas with cauliflower.
This quick and easy gobhi matar ka keema is my favourite and the left over can be used to make sandwiches or by adding little gram flour or bread crumbs,delicious gobhi cutlets or koftas can be made.
If you love cauliflower then do try these recipes-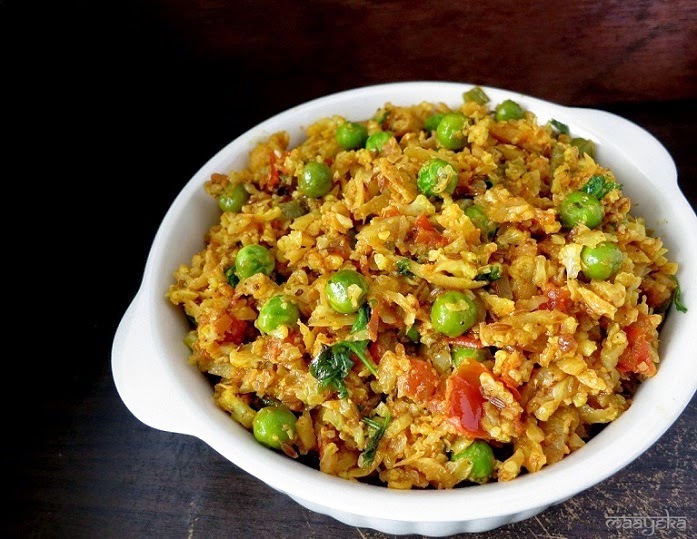 Prep time-15 min
Cooking time-25 min
Difficulty level-medium
Spice level-medium hot
Cuisine- Indian
Type-side
Serve-6
INGREDIENTS-
Cauliflower/phool gobhi  -500 gms
Green peas/matar ,boiled -3/4 cup
Tomato,chopped -250 gms(4 medium)
Green chili,chopped -1.5 tsp
Ginger, grated – 1.5 tsp
Yoghurt – 1.5 tbsp
Lemon juice – 1 tsp (optional)
Chili powder -2 tsp
Turmeric /haldi -3/4 tsp
Garam masala -3/4 tsp
Kasoori methi -1 tsp
Salt -to taste
Cumin seeds/jeera – 1tsp
Asafoetida /hing-1/4 tsp
Cloves/laung -2
Cooking oil -3 tbsp+3 tbsp
PROCEDURE-
Wash and soak cauliflower florets in turmeric water for 10 minutes.
Wash and wipe well to remove the moisture and then grate coarsely or shred finely.
In a heavy pan and add 3 tbsp oil or ghee,when become warm then add cumin seeds.
When cumin become golden then add the grated cauliflower and mix.
Now stir fry grated cauliflower on medium flame till become pink and get slightly cooked.(6-8 minutes)
Remove the stir fried cauliflower from the pan and keep aside.
In the same pan add 3 tbsp oil,when become warm add grated ginger,asafoetida,cloves and green chilies and saute for few seconds.
Add chopped tomatoes and salt,cover and cook till tomato become soft.
Now add kasoori methi,turmeric and chili powder and saute till oil start seperating from the tomato puree,
Add yoghurt and garam masala and mix well.
Add cauliflower and boiled peas in the tomato masala and mix well,now cover the pan and cook on low flame for approx 5 -8 minutes or till cooked well but remain crisp(take care not to over cook it,otherwise it will look like a mash.)
Now add fresh coriander and lemon juice and mix gently
Serving suggestions-serve as a side dish with any Indian bread or rice or use as a sandwich filling.
There is no Nutrition Label for this recipe yet.