Crispy and mildly spiced refined flour and yogurt dumplings -A south Indian delicacy
Goli baje /Mangalore bajji is a very popular snack from Mangalorian Cuisine.It is quick,simple and easy to make yet taste so nice. Its crisp and fluffy from outside and soft from inside,You can make it any time with the basic and easily available ingredients at home .A nice recipe to try when you have unexpected guest or for your kids sudden demand.
Being a North Indian I have never heard or tasted this snack but when my son went to Hyderabad for his job, he told me about this delicious snack ,I tried it at home and after some trial and errors I finally got it right (the consistency of the batter should be thick )and since then its our favorite snack and I make it often.
Mysore bajji is made with refined flour, rice flour,sour yogurt ,fresh herbs i.e green chili,ginger and coriander. Rice flour is added to give crispness and soda is added for fermentation and sponginess.I prefer to use slightly sour curd to make this bajji.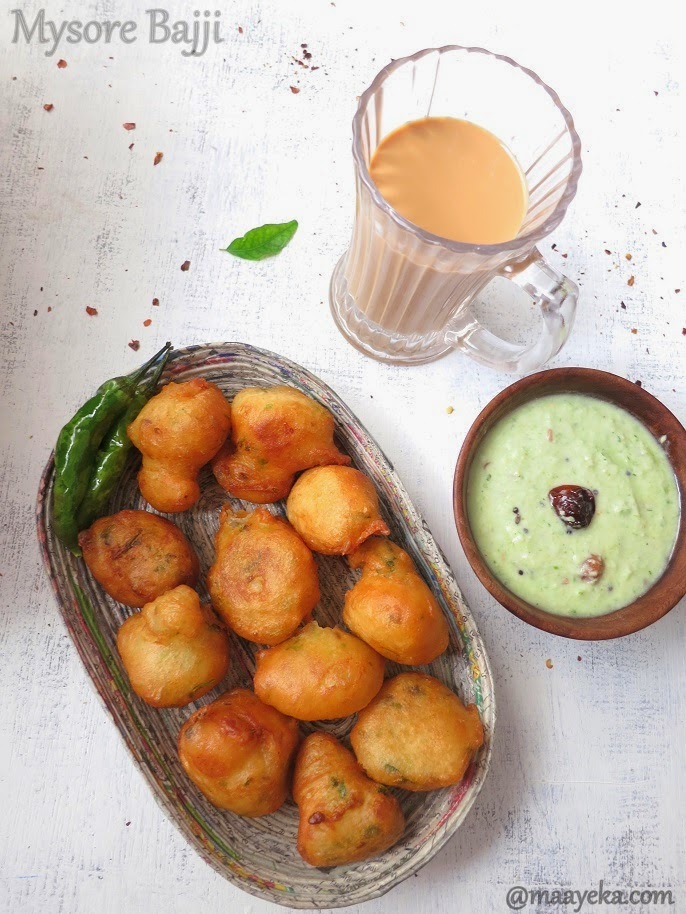 There are few names for this snack,in some parts of Mangalore it is called Mangalore bonda /Mysore bajji / or Goli baje. But  don't confuse it with Mysore bonda as that is a different type of snack which is made with urad daal not refined flour .Mysore bajji is best served with coconut chutney or peanut chutney but any tangy sauce or chutney goes well with this crisp bonda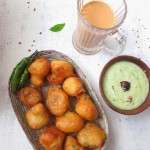 The batter should be medium thick like dahi vada batter,if you make it thinner then the vada will absorb more oil.

Now add curd, chilies, ginger ,curry leaves and fresh coriander.

Mix it well to make a thick batter of dropping consistency (like dahi vada batter)

Cover and rest for 15 minutes and mix it well to make it smooth.

Heat enough oil in a deep and broad pan to deep fry.

Wet your fingers with water and take lemon size small portions from the batter and drop gently in hot oil.

Lower the flame to medium hot and deep fry to a nice golden color.

Drain on a paper napkin and serve hot.
The batter should be medium thick like dahi vada batter,if you make it thinner then the vada will absorb more oil.
If the batter become loose then you can add some more rice flour to adjust the thickness of the batter.
Rice flour is added to give crispness but if you don't have rice flour then add some besan or fine semolina instead.
Slightly sour curd gives a nice taste but you can also add few drops of lemon juice to fresh curd and use.
You can also add some crushed pepper corns and grated coconut in it.
Deep fry it on medium heat, if you cook on high then they might remain raw from inside and on low heat they will absorb much oil.
I prefer to make gooseberry or lime size bajji but can make slightly bigger if you like.
They should be best served hot as they turn slightly chewy once become cold.
There is no Nutrition Label for this recipe yet.