Turnip and peas cooked in a tangy tomato sauceTurnip/shalgam /Gungloo is a healthy,easily available and a very reasonably priced vegetable.Though it is a winter crop but now easily available through out the year.Turnip is mainly consumed in the state of Punjab.Turnip has numerous health benefits as it is loaded with so many nutrients ,it strengthen the immune system,helps to loose weight,good source of B-complex, minerals, maintains blood pressure, decrease the risk of  heart disease and diabetes
When you shop for shalgam then try to choose small young shalgam as they taste best,the big mature turnip taste slightly woody and bitter and some times turn dry and fibrous from the center so choose heavy but small turnips for best result.
As shalgam is from the raddish family so it has a peculiar taste so you need to add some sugar and lemon juice to balance the taste.you can either make it dry or make little soft and watery like I made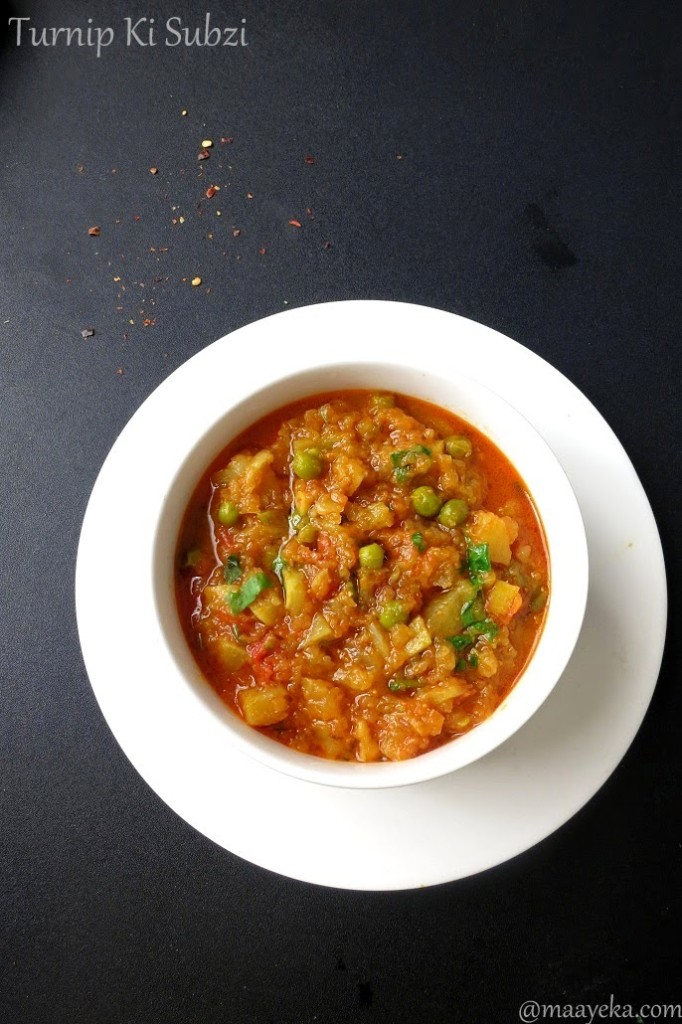 Prep time- 10 min
Cooking time-15 min
Difficulty level-easy
Spice level-mild
Cuisine- Punjabi ,North Indian
Type-side
Serve – 4
INGREDIENTS-
Turnip/ shalgam- 600 gms
Green peas – 1/3 cup
Tomato /tamatar- 2  200 gms
Ginger /adrak,chopped-1 ts
Fresh coriander /dhaniya, chopped- 3 tbsp
Turmeric /haldi – 1/2 tsp
Chili powder /lal mirch- 1 tsp
Corinader powder /dhaniya – 1 tsp
Lemon juice/neebu ras – 2.5 tsp
Sugar /chini – 2 tsp
Salt – to taste
Ghee – 1.5 tsp
Tempering /waghar-
Cooking oil- 4 tbsp
Green chili,chopped – 1.5 tsp
Cumin /jeera- 1 tsp
Fenugreek seeds /Methidana- a pinch of
Asafoetida /hing- a pinch of
Water – 1 cup
PROCEDURE-
Wash and peel turnip  and chop into medium size pieces.
Heat oil in a pressure cooker and add the tempering ingredients.
When seeds start crackling add chopped tomato and stir for a minute.
Add chopped turnip, green peas ,chili powder,coriander powder,salt and turmeric.
Add a cup of water and pressure cook for 3-4 whistles on medium heat.
When cool down then open the cooker and roughly mash the boiled turnip with the laddle.
Add sugar and ginger and cook till it thicken slightly.
Then add lemon juice and fresh coriander and ghee.
Serve hot with chapati or paratha.
NOTE-
Try to choose small and heavy turnip as small turnip taste best,mature and big turnip have a peculiar taste.
I prefer to mash the curry so it absorb all the flavours but you can make it without mashing if you prefer.
I have make it watery but you can also make it dry.
Can use mango powder instead of lemon juice.
Addition of green peas is optional.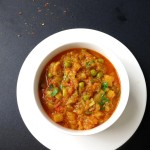 Print Recipe
Shalgam Ki Subzi,Turnip Curry