Sweet and spicy grated mango pickle- Specialty from Uttar Pradesh
Every year during summer months housewives starts making different types of pickles,with the routine pickles we also want to try some different recipes to give a twist in  the taste,so always in search of new recipes to experiment with.Though almost all pickles have some common basic ingredients and the method's are almost similar but the slight difference of ingredients, their ratio and procedure makes a lot of difference in the taste.
Besides the spicy and tangy pickles of mango ,the sweet mango pickle/aam ki achari  is equally popular all over India. Gujaratis makes mango chunda and Gor keri, Bengali makes Gur aam, Maharastrian do methamba and in south they make aam ka murabba.Though the basic ingredients are same but every pickle have a different flavour and taste.
In my home state  Uttar Pradesh Aam ki launji is very popular but today I am posting a community special sweet pickle which is popular as -Aam ki achari ,it easily stays fresh for an year or till you finish it off .In Uttar Pradesh, pickle is used daily with almost every meal. I love making different pickles so I have posted –  khajoor ka achar,  Marwari chana and aam ka acahar ,   Digestive masala lemon pickle , Stuffed green chili pickle ,  Gujarati mango pickle and many more in my blog here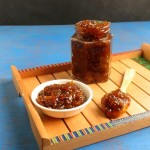 Peel and grate raw mango (from 1250 gm raw mango I got 1 kg grated mango)

Dry roast saunf and methidana separately till it start giving a nice aroma and slightly change their colour.

Peel black cardamom, remove the seeds from the pod and very slightly crush them and keep aside

Mix turmeric,salt, roasted saunf and methi dana in the grated raw mango and mix well.

In a big deep bowl add the prepared mango mixture. Cover the bowl and keep aside for a day inside the room or kitchen (no need to keep in direct sunlight )

This step is done to make the methidana and saunf swell up with mango juice and become soft, if we directly add the seeds with sugar then the seeds become hard.

Next day take a big and heavy bottom pan (I used the pressure cooker)

Add the raw mango mixture,sugar and jaggary in the cooker and mix well.

Now put the pressure cooker/pan on medium heat and cook.

Keep stirring in between on medium low heat.

When it started to thicken then add raisins,crushed cardamom seeds and chili powder

When it looks like honey then switch off the flame and add garam Marsala and mix.

It will thicken further as it cool down and look like the consistency of jam.

It easily stays fresh for an year at room temperature if cooked properly.(no need for refrigeration )
Serving suggestions- can serve with roti,rice, bread ,mathri or with any snack
Nutrition Facts
Aam Ki Achari / Meethi Launji- U.P Style
Amount Per Serving (15g)
Calories 51
Calories from Fat 1
% Daily Value*
Total Fat 0.1g 0%
Polyunsaturated Fat 0.01g
Monounsaturated Fat 0.01g
Sodium 22mg 1%
Potassium 40mg 1%
Total Carbohydrates 13g 4%
Protein 0.2g 0%
* Percent Daily Values are based on a 2000 calorie diet.