Quick and easy yogurt and vegetable sandwich- summer recipe
kids loves bread in all forms either simple toast ,sandwiches or any snack made with bread.My children also loves bread and sandwiches so I make many versions of toast and sandwiches.My favorite is- Pineapple salsa sandwich ,  Mumbai style grilled potato sandwich, the popular Middle Eastern special  Falafel sandwich , Italain eggplant panini   .
This dahi sandwich is very quick and easy ,perfect for summer and an instant hit with kids, you can also add some grated carrot and shredded cabbage in it to make it more colourful and healthy.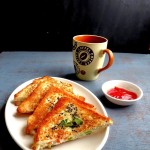 In a bowl add yogurt,tomato,cucumber,salt,coriander,green chili ,pepper powder and mix it well.

Take a bread slice and spread 1/2 mixture over it.

Cover it with another bread slice to make a sandwich.

On a heavy griddle or a non stick tawa spread 1 tsp oil and sprinkle mustard seeds and chopped curry leaves

When mustard seeds start to crackle then place the sandwich over this tempering and cook on slow flame.

When it become golden then spread little oil or ghee on the top slice.

Turn the sandwich and cook from other side by gently pressing with a spatula.

When become golden from both sides remove from the griddle.

Slice it to make two pieces.

Serve hot with ketchup or chutney
You can also add grated carrot and shredded cabbage in it.
There is no Nutrition Label for this recipe yet.