Baby potatoes marinated and stir fried with yogurt and Indian spices
How ever hard I try to restrict potato in our diet but some way or another it is always present in our menu either in some curry or in a snack as most of the snacks are made with potato and often you can't replace it with any other vegetable.
I made many starter and snacks with potatoes which me and my family enjoys a lot –
Achari aloo, Dahi Aloo Chat, 
 ,
Potato Spirals , Potato Cup Chat  , Roasted Rosemary Potato
 are my favorite snacks which I make often
My today's recipe- Tandoori aloo recipe is a easy and very delicious starter which can also be served as a side dish. If you don't get baby potatoes then just use normal sized boiled potatoes and chop into big size chunks.I have grilled them in a non stick pan  but you can also bake in an oven or BBQ them,tandoori aloo taste great anyways.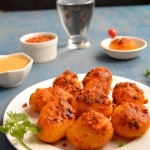 Par boil potatoes in water with a tsp of salt added.

Peel the boiled potatoes .

In a big bowl add yogurt, mustard oil,1 tsp lemon juice and all the spices in it.

Mix well and add the boiled potatoes in it.

Cover the bowl and let the potatoes marinate for 2-3 hours (or overnight in the refrigerator if you want to plan ahead )

If you want to make them instantly then add 1 tsp of dry roasted gram flour/besan in it.

Take a wide and thick bottom pan or a non stick pan and add the potatoes in a single layer in it.

let the potatoes cook on medium high flame in the pan,stir occasionally.

When the marination almost dries up and potatoes get roasted then remove from the pan.

Drizzle some lemon juice and serve hot .
Serving suggestions- Serve with mint chutney as a snack,starter or use as a side dish.
TIPS-
Instead of roasting in the pan you can also roast the potatoes in an oven on the highest temperature for about 15 minutes or arrange on a skewer and grill on a B.B.Q
Can also add some blanched cauliflower,mushroom and paneer in the marination.
If baby potatoes are not available then can use big chunks of par boiled potatoes.
Use of orange /tandoori colour is optional,you can add turmeric instead
There is no Nutrition Label for this recipe yet.