Milagai bajji- Green chilies stuffed with tangy spice mix -a specialty of Andhra Pradesh
Monsoon have already started in many parts of India and the first thing which is enjoyed the most in this lovely weather is surely some fried snacks or roasted corn. There are numerous version of making pakodas or bajji but the hot mirchi pakoda /bajji /fritters  are liked by every one, those who can't handle the fiery chilies can blanch them for a minute in hot water so it will become mild in taste.
In Northern India Mirchi vada and batata vada are more popular but in Andhra pradesh these Milagai bajji are a favorite and popular street food served with tangy chutney.Try to use medium thick and mild variety of green chilies to make this mirchi pakoda / Milagai bajji.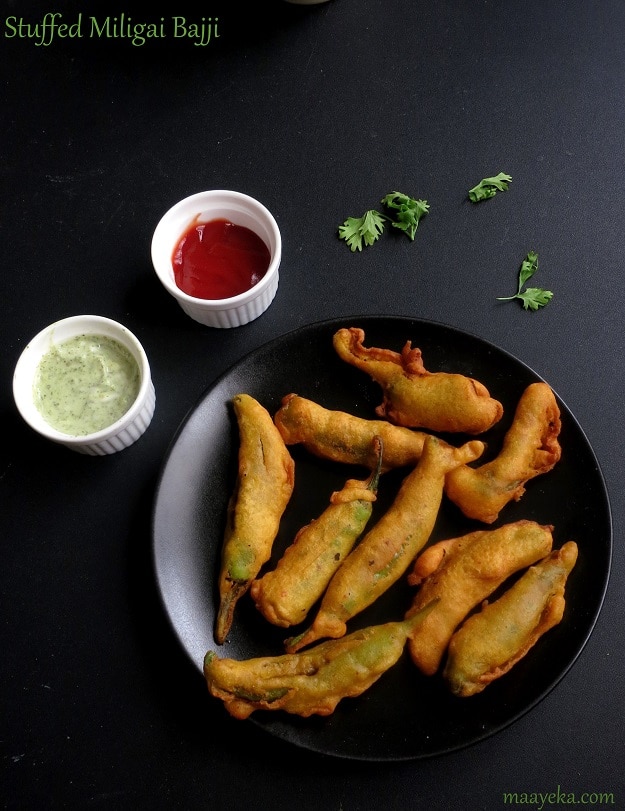 A spice mix is made with salt, mango powder, coriander powder and fresh coriander and then it is stuffed in the green chilies and then they are dipped in a gram flour batter and the mirch pakoda are deep fried till they become crisp.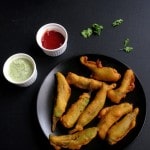 wash green chilies and make a slit in the center,keeping the back side intact.

If chilies are hot then you can blanch them in hot water for 2-3 minutes.

Take a bowl and add salt,mango powder,coriander powder,cumin powder and chopped fresh coriander.

Mix and add few drops of water to make a thick paste.

Stuff little of this paste inside all the green chilies.

In a bowl add gram flour,rice flour,salt,turmeric,chili powder,asafoetida and mix

Now add water (about 3/4 -1 cup)and make a medium thick batter of coating consistency.

Add baking soda over the batter and then pour hot oil over baking soda

Now mix the batter properly

Heat enough oil in wide pan.

Dip the stuffed green chilies in the batter and coat properly and then gently drop in the hot oil.

Fry till they become golden and crisp.

Drain on a paper napkin to remove the excess oil.
Note-
To make the stuffing-Instead of mango powder you can use thick tamarind paste or lemon juice,then no need to add water
There is no Nutrition Label for this recipe yet.