A delicious and flavourful apple and brinjal curry -a Kashmiri specialty
Kashmiri food is very simple yet flavourful. Lots of whole spices, ghee and saffron are used in their daily routine food .The spices used are warm and spicy like cloves ,dried ginger ,asafoetida ,cinnamon etc and to balance the heat and flavour fennel is adding in most of the recipes .Yogurt is also used in many dishes in Kashmiri cuisine.
I love to cook Kashmiri recipes as most of the vegetarian kashmiri recipes are cooked without the use of onion and garlic.The most popular kashmiri dish at my place is – Kashmiri Dum aloo which do take little extra time as compred to other recipes but its worth the effort. Kashmiri Nadru Yakhni and Kashmiri khatte baigan – Chokh Vangun are also very simple but delicious recipes to try. Kashmiris also make delicious and simple Apple and raw mango chutney and mooli ki salad – Mooji chatin .
Apple and brinjal is not a common combination in Northern India so when I first heard about this I was little skeptical about the flavour and taste of this curry but when I tried it every one loves the mild and simple flavors .Green apples adds avery nice and  tangy taste to the curry .
It is better to choose small brinjals for making this kashmiri baigan aur seb ki sabzi  but you can also make it with large size brinjals but try to choose seedless ones or one with few seeds. Granny smith apples are used in it as they are tart but you can also add some mango powder or lime juice in case you cant find granny smith and want to use other variety but avoid using sweet variety of apples.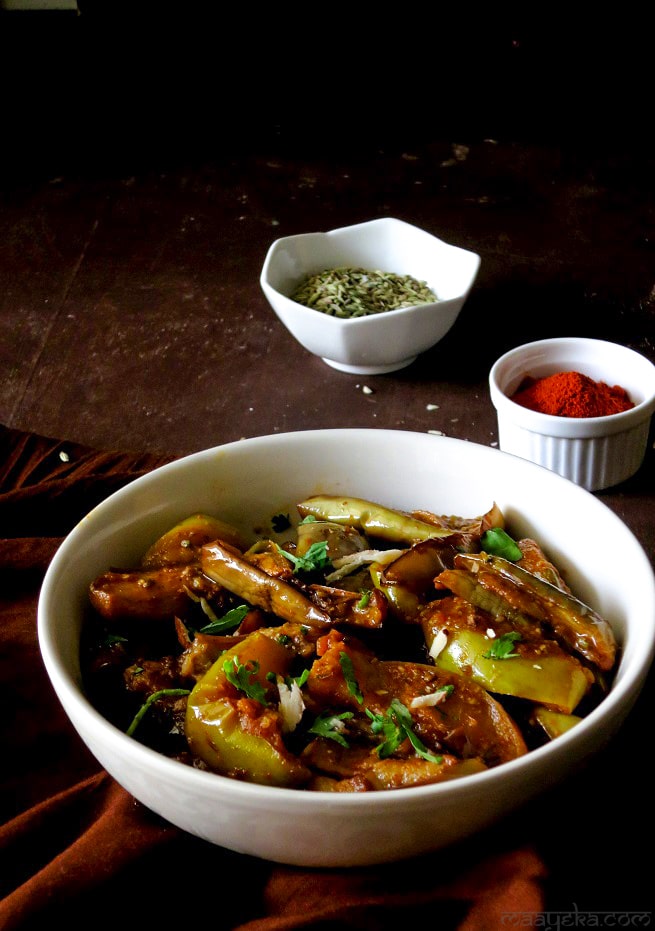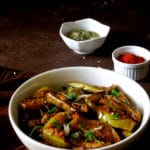 Wash and slice brinjals and apples ,lengthwise or cubes.

Heat mustard oil in a pan and deep or shallow fry the brinjals to a nice golden colour.

in the pan take about 4 tbsp of mustard oil and add ,cloves,cardamom and asafoetida

Take 2 tbsp of water in a small bowl and mix all the spices in it(spice mixture)

When cloves swell up then add the spice mixture and stir.

Now add the apples and stir to coat with the spices.

Add a cup of water and salt and cook on medium heat till they are almost cooked.

Now add the fried brinjals and cover and cook till apple and brinjals get cooked completely.

Serve hot with rice or any Indian bread.

Garnish with slices almonds and chopped fresh coriander.
Note-
Use tart green granny smith apples or any other sour variety available,if the apples are not sour then you can add some mango powder or lemon juice at the end of cooking.
I have fried only the brinjals but you can also deep fry the apples if you wish.
There is no Nutrition Label for this recipe yet.