Tangy and delicious Mango and bell pepper salsa
A tangy, cool and refreshing mango salsa to enjoy in this summer season.You can serve this as a salad, side dish or can serve this salsa with any crisp snack, nachos or chips. Its very easy to make and need just few ingredients and every one will surely love the tangy sweet and sour taste of this colourful salsa.
I have made few more  mango recipes this season ,Easy home made  Mango kulfi was loved and enjoyed by every one at home.The cool and refeshing Mint and  mango Lemonade is a tangy and delicious drink which is easy to make and taste very delicious and refreshing.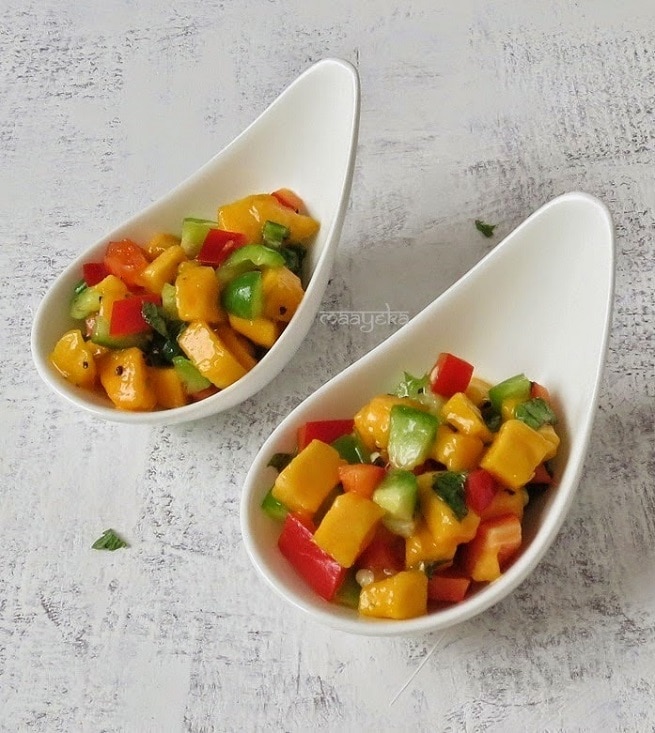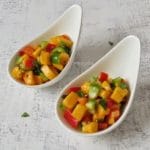 Peel and finely chop the mango and bell peppers.

In a bowl add oil,lemon juice ,mint ,salt and pepper and mix well.

Add chopped bell peppers,mango and green chilies in the dressing and mix gently.

Serve chilled as an accompaniment with any snack or as a salad or side dish .
Note-
Don't use over ripe mangoes,mango should be ripe but firm
There is no Nutrition Label for this recipe yet.