Crisp and crunchy broccoli and carrots stir fried with sesame seeds.
Broccoli is considered as the most nutritious vegetable,it is loaded with super nutrients that support our over all health and also have therapeutic properties.
It is a nutritional power house but still not very popular in India like our desi cauliflower.It is very easy to cook broccoli you can steam, saute, blanch or stir fry it with out adding to many spices and fat.
This broccoli stir fry can be served as a warm salad or as a side dish ,and the leftover can be stuffed in a sandwich or wrap.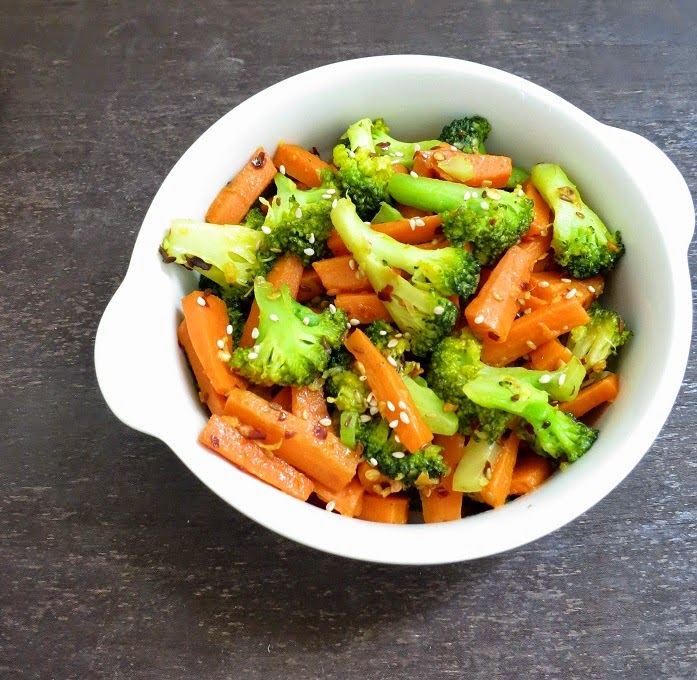 Prep time- 10 minutes
Cooking time-10 min
Cuisine-Indian
Type-side
Serve-4
INGREDIENTS-
Broccoli,chopped – 300 gms
Carrot /Gajar, chopped -2
Ginger, grated- 1tsp
Chili flakes- 1 tsp
Sesame seeds- 2 tsp
Cumin seeds- 3/4 tsp
Turmeric -1/2 tsp
Cooking oil- 3 tbsp
Lemon juice- 2 tsp
Salt- to taste
Sugar- 1/4 tsp
PROCEDURE-
Scrape carrots and make thin slices.
Chop broccoli into small florets .
Peel and slice the broccoli steam.
Heat oil in a pan and add 1 tsp of cumin seeds.
When seeds start crackling add sesame seeds.
When cumin seeds become golden then add grated ginger.
Now add turmeric powder and broccoli and saute for a minute.
Add chopped carrot, salt and chili flakes,mix well
Cover the pan with a lid and cook on low heat.
Cook till it get cooked but remain crisp and crunchy.
Now add lemon juice and sugar and mix.
Garnish with  1/2 tsp of toasted sesame seeds and serve.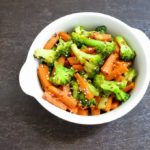 Print Recipe
Broccoli and Carrot Stir Fry