Purple Cabbage Rice- A healthy,delicious and easy to make purple cabbage and pea pilaf
Cabbage is among the few vegetables which have so many healthy befits but often people dislikes it due to the blend taste and the smell it gives while cooking . Same goes with purple cabbage as it is harder then the normal cabbage so people often use it only in salads and in small quantity .
Cabbage is a very healthy vegetable, it have a good amount of vitamin C and K, it aids weight loss, boost immune system, have anti aging properties, reduce risk of lung and breast cancer, protects against Alzheimer, good to use in ulcers and many more health benefits.
I regularly use cabbage in my daily cooking ,cabbage Aloo ki sabzi ,  Cabbage carrot sambharo , mild in flavour and easy to make  Cabbage and chana daaal ki sabzi is regularly made for lunch or dinners .
Purple cabbage is also often used in salads or to make this delicious and simple stir fry – Purple cabbage and pea stir fry . Few days back I brought a big purple cabbage / red cabbage and tried this purple cabbage rice and it turn out very delicious and the colour was also so nice and bright that every loved it and now I will be making this purple cabbage rice often ! if you don't have purple cabbage then you can also try this with normal green cabbage.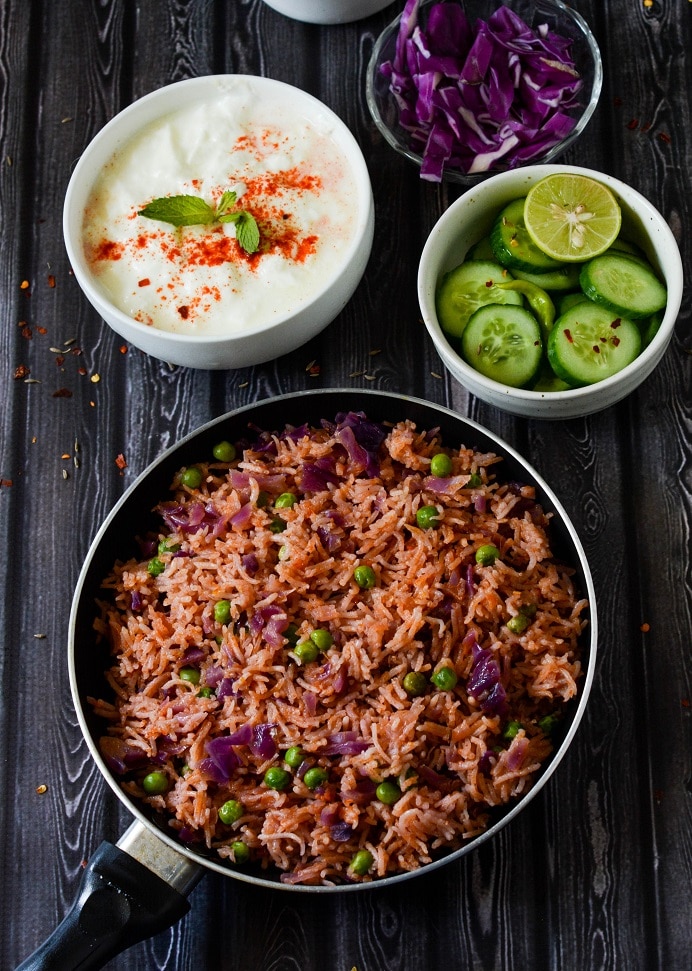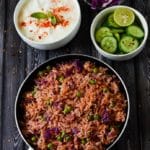 Wash and soak the rice for 10 minutes.

Grind together tomato, green chili and ginger and make a smooth paste.

Heat oil in a pan and add cumin seeds and when it start to crackle add cloves and cardamom.

Add the finely shredded cabbage and saute for 2 minutes on medium heat.

Now add the tomato puree and the spices and saute till oil start to separate.

Add yogurt and the soaked rice in the pan and stir gently to mix.

Add salt and 2 cup water and cook till it start to boil.

lower the flame and cover with a lid and cook till half done.

Now add the lemon juice and boiled or frozen peas and gently mix.

Cover the pan and cook till done.

Switch off the flame and wait for 2-3 minutes and then fluff with a fork.

serve hot with yogurt,pickle and salad .
There is no Nutrition Label for this recipe yet.