Today I am sharing a health remedy that my mother learnt from my great grand mother. I always used to get it from my mother whenever I used to visit India – but got around to actually learning it during this visit.
Aloe vera and Carom seeds (Gvarpatha ki ajwain) is a very good remedy for gastric issues, upset stomachs, and general digestion – and therefore makes a lot of sense to post on a cooking blog. 🙂 
Ajwain (Omam/Carom seeds) – 1.5 cup
Aloevera Pulp – 2 cups
Black Salt – 2.5 tsp
Lemon Juice – 1/2 cup
Asafoetida – 1/2 tsp
Ginger, grated -2 tsp
Peepli – 12 (Optional)
PROCEDURE;-
Wash and peel the Aloe Vera stem and extract the pulp. Blend the pulp in a blender.
Take a glass jar and pour the aloe vera pulp in it. Add all the ingredients to it and mix well.
Press the mixture with a spoon, ajwain should be moist and soaked well in the mixture. If the mixture feels dry then add some more aloe vera pulp OR lemon juice into it.
Cover with a lid and keep aside for 3 days. Keep mixing in every once in a while.
After 3 days spread the mixture into a plastic or glass tray (do not use a metallic metal jar or tray)
Let it dry completely by placing in shade. Do not expose to direct sunlight.
When it has dried completely, store in a glass jar and use when required.
Usage Directions: Take 1/2 tsp of the mixture and chew slowly. You may drink 1/2 cup of warm water afterwards if you don't find the strong taste of ajwain tolerable.


NOTE-
If you don't have aloe vera then can make this with only lemon juice.
Be carefull while choosing aloe vera as all  aloe vera varieties are not edible.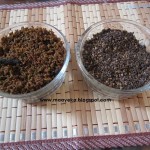 Print Recipe
Digestive Aloe vera ki ajwain (carom seeds)