Sooji dhokla
An instant and very healthy steamed snack made from semolina and yoghurt,a variant of the famous 'Khaman Dhokla'(gram flour cakes)from the Gujarat state in India.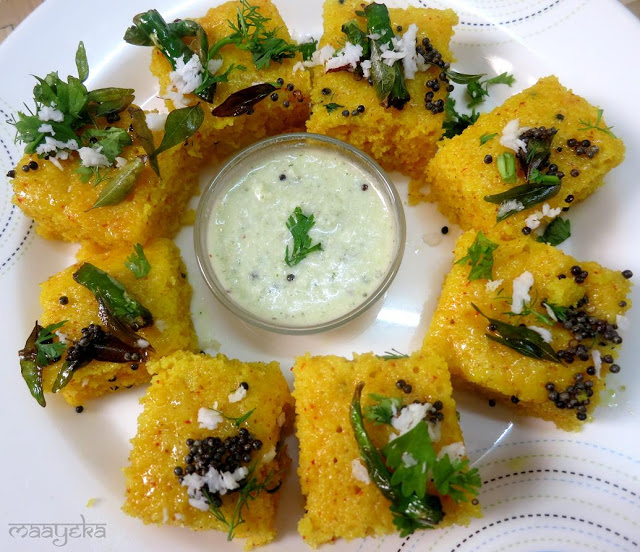 INGREDIENTS-
Semolina-2 cup
Sour curd-1 cup
Lemon juice-1/2 tsp
Green chilli chopped -2
Turmeric-1/4 tsp
Chilli powder-1/4 tsp
salt-1 tsp
Whole green chillies-4
Sesame seeds-1/2 tsp
Curry leaves-8
Green coriander-2 tbsp
Eno fruit salt-1 tsp
PROCEDURE-
Take curd in a bowl,beat it well and then mix in semolina,turmeric,salt, chopped green chillies,lemon juice and chilli powder and make a semi thick batter with water, like you make for besan pakoras.
Keep aside for 20 minutes,add more water if it become thick.
Take 3 tbls of oil in a small pan,add 1 t.s mustard seeds,pinch of
asafoetida,,when done ,add 2 tbls
of water in it and then add this to the semolina mixture ,mix well(you can skip this step ,but it gives a nice flavour to dhokla)
Heat water in  the steamer ,and grease the plates with oil ,when water start
boiling in the steamer then add 1/2 t.s eno in half the mixture (enough for one
plate)mix well and pour in the greased plates and steam for 10 minutes
on high heat.this measurement will make 2 plates of (approx.8 inch) dhokla's
Then switch off the gas, wait for  5 minutes then take out the plate ,let it
cool  down for 5 minutes , repeat the process with the remaining mixture
and steam the same way .
Rest for 10 minutes and then Cut into square or diamond shape pieces.
Heat 2 t.s oil in a small pan ,add  1/2 t.s mustard seeds,sesame seeds ,curry leaves,slit green chillies .when done pour over the pieces.
Garnish with green coriander and fresh coconut
Serve with mint or coconut chutney
VARIATION–
You can also add 1/2 cup grated cabbage and carrot  in the batter.
MICRO WAVE VERSION-
You can make these dhokla's in micro
wave too.Take a micro wave proof plate and grease it ,pour the batter
(1/2 inch of  thickness)  cover and micro high for 3 minutes.wait for 1 minute,take out and rest for 5 minutes cut into pieces,pour the tempering and serve.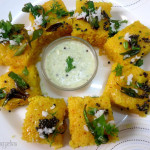 Print Recipe
Sooji Dhokla