Rajgiri ki poori- Amaranth  flour bread with cumin spiced potatoes-food for fasting
Rajgiri ki poori- Most of the flours flours used during Fasting and Navratri are gluten free .-Rajgiri/Amaranth flour,Kuttu ka ataa/Buckwheat flour, Sabudana /sago, Samu/ Barnyarn Millet, Singhora /water chestnut flour are few among the favourite fasting foods.today I am posting the very popular fasting food-Rajgiri ki poori
Rajgiri flour is gluten free so we need to add some kind of starch for binding the flour. I have added boiled mashed potatoes but you can also add boiled arbi/taro root or boiled raw banana for binding.
All the tuber vegetables are used during fasting days i.e Potato,Sweet potatao/shakar kand,Taro root/Arbi ,Yam/suran ,Pumpkin /kaddu are the widely used vegetables.
If you are looking for more fasting recipes/vrat ka khana then do check-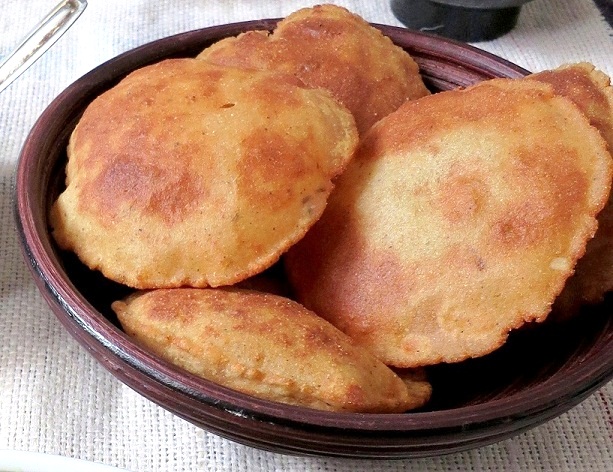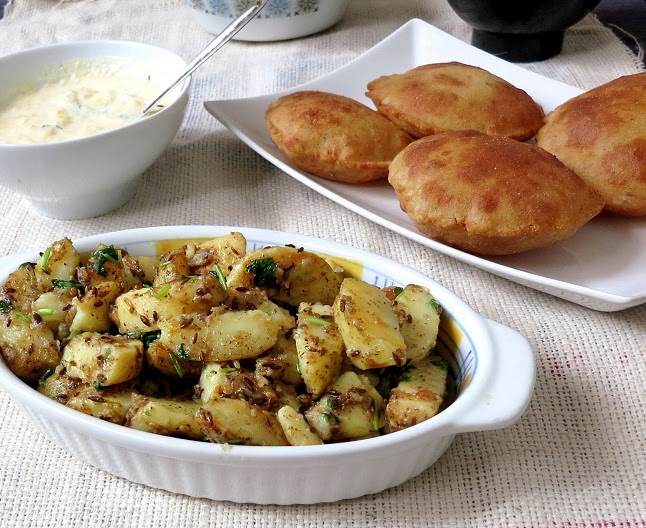 RAJGIRI POORI
Prep time-10 minutes
Cooking time -15 minutes
Cuisine-Indian
Type-main
serve-3

INGREDIENTS-
Rajgiri atta/Amaranth seed flour-1.5 cup
Taro root/Arbi, boiled and mashed-1/2 cup*
Cumin seeds- 1 tsp
Pepper powder -3/4 tsp
Salt- to taste
Cooking oil/Ghee – to deep fry
PROCEDURE-
In a big and wide bowl add all the ingredients.
Mix and mash well ,then add water and make a medium soft dough.
Cover and rest for 5 minutes.
Knead the dough and make small balls of equal size.
Dust the balls with rajgiri flour and roll to make medium thick pooris/discs.
If you have difficality in rolling the pooris then place the dough ball between two greased thick plastice sheets and then roll.
Heat oil /ghee in a deep pan ,when become hot then gently slide the rolled poori in medium hot oil.
Press gently with a slotted spoon ,so it will puff nicely.
Fry from both sides till golden in colour.
Drain on a paper napkin and serve hot
Vrat ke ALOO Jeera


Potatoes, boiled and chopped-4 (medium)
Cooking oil/ghee-2.5 tbsp
Cumin seeds /Jeera- 1.5 tsp
Sesame seeds /till- 1tsp(optional)
Asafoetida/hing- 1/4 tsp
Pepper powder/kali mirch-1 tsp *
Mango powder/Amchoor- 1 tsp
Fresh coriander/mint,chopped -1.5 tbsp
Salt- to taste.
PROCEDURE-
Peel and slice boiled potatoes in medium thick slices or cubes.
Heat oil or ghee in a pan and add cumin seeds.
When cumin start crackling add sesame seeds and asafoetida and cook till cumin become golden in colour.
Now add chopped potatoes and salt.mix gently.
Let it cook on medium heat for 2-3 minutes.
Add pepper and mango powder and mix .
Now cook for 3-4 minutes,so the potatoes gets a nice golden colour,stir only once or twice.
Add chopped fresh coriander or mint,mix and serve .
Serving suggestions-serve Poori with jeera aloo,yoghurt or raita.
Note-
*you may substitute boiled taro root with boiled potato to make rajgiri poori
You can also follow me on Pinterest , Facebook , Twitter and Instagram for more delicious recipes and updates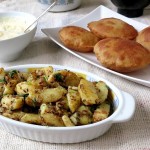 Print Recipe
Rajgiri Ki Poori With Jeera Aloo- Fasting Recipe