Achari bhindi- Stir fried okra made with tomato and pickle spices.
Bhindi /okra is a favourite vegetable of most of us,it is a versatile vegetable which can be made in several ways.I usually made stir fries and stuffed bhindi.The favourite okra/bhindi recipes of my family are kurkuri Bhindi ,the Gujarti speciality Bhindi ki kadi , and delicious and stuffed Bhindi sambhariya

Some people avoid using bhindi due to its sliminess,but there are few tips to avoid that,first and most important is that you have to wash and wipe okra very well before cutting,never wash it after chopping and don't cook on low flame as it increase its sliminess so cook on medium flame ,don't add water to cook okra as it will cook in its own moisture and add some mango powder and coriander powder while stir frying it.
This Achari bhindi is among the most frequently ordered okra dish in restaurent menu .Panchphoran or whole pickle spices are used in the tempering and then little powdered pickle masala is added while stir frying it to get the achari flavour.Try this simple but flavorful dish and enjoy with curd and parathas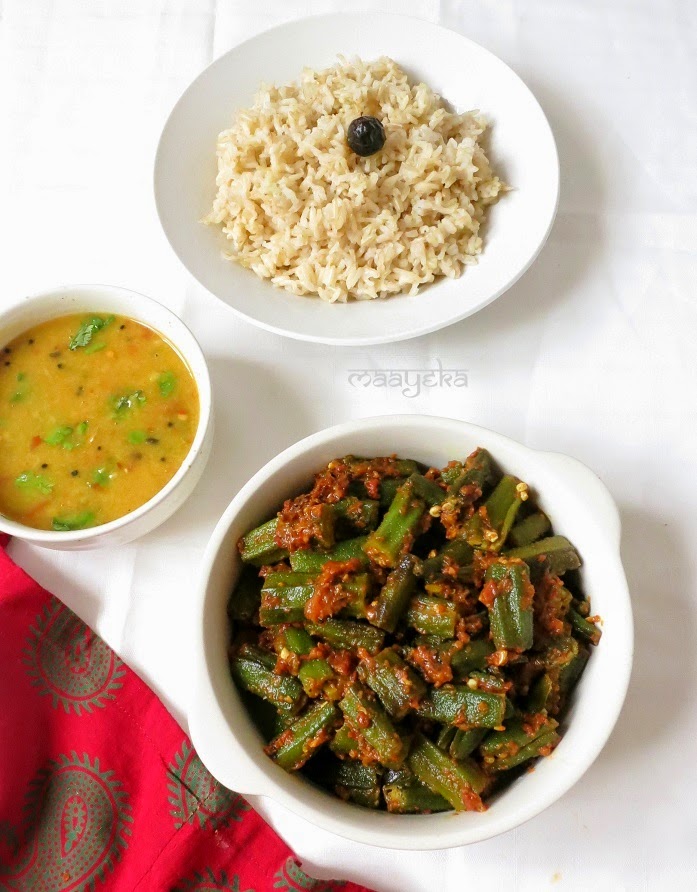 Prep time -15 min
Cooking time -15 min
Difficulty level -easy
Spice level -medium
Cuisine -North India
Type -side
Serve -4
INGREDIENTS-
Okra /bhindi-500 gms
Tomato, chopped-200 gm
Coriander powder /dhaniya-1 tsp
Chili powder /mirch -1 tsp
Mango powder /amchoor – 3/4 tsp
Ready made pickle masala-2 tsp *
Salt- to taste
Tempering /waghar/tadka
Mustard oil – 3.5 tbsp*
Mustard seeds /rai -1/2 tsp
Fennel seeds /saunf- 1/2 tsp
Cumin /jeera-1/2 tsp
Fenugreek seeds /methidana-1/3 tsp
Onion seeds /Kalonji -a pinch of (optional)
Asafoetida / hing – 1/4 tsp
PROCEDURE-
Wash and then wipe okras very well with a kitchen napkin.
Trim the ends, slit from the center (to check worms)and chop into big pieces.
Heat 2 tbsp of oil in a heavy bottom pan and add the chopped okras and saute for 2 minutes
Remove the sauteed okras from the pan and keep aside.
Add oil in the pan and add the tempering.
When seeds become golden then add turmeric and tomato and saute till it become soft.
Now add sauted bhindi, salt and all the spices except mango powder and pickle masala.
Cover the pan and cook till okra get almost done.
Now add mango powder and pickle masala in the okras.
Stir and cook for it for a minute or till done
Serve hot with chapati, poori or rice.
NOTE-
If you don't have ready made pickle masala then use 1 tsp of masala from your chili or mango pickle.
Can substitute mustard oil with any other vegetable oil.
Can also add few boiled potato pieces at step-7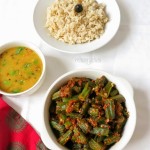 Print Recipe
How to Make Achari Bhindi / Spicy Okra