Pineapple cake with the topping of caramelized sugar and pineapple slicesI have started baking after a long break. I often used to
bake cakes for my children, but now  they are grown up and started avoiding sugar and fat loaded goodies so I don't feel like baking anything just for the two of
us….why? Perhaps baking, for me, is associated with kids only :).
But this
pineapple upside down cake
is still there favorite so I try to make it on some special occasions.This pineapple cake is easy to make and assemble as its don't need any icing to decorate it and still looks tempting and taste awesome.I have added some finely chopped pineapple pieces in the batter but this is optional you can add or skip it according to your taste preference.
Be careful while caramelizing the sugar ,if you overdo it then it will burn and ruin the taste so give a nice golden colour and spread it in the pan,always prefer to use a nonstick pan to make this cake.
For more eggless bakes on my blog check-
here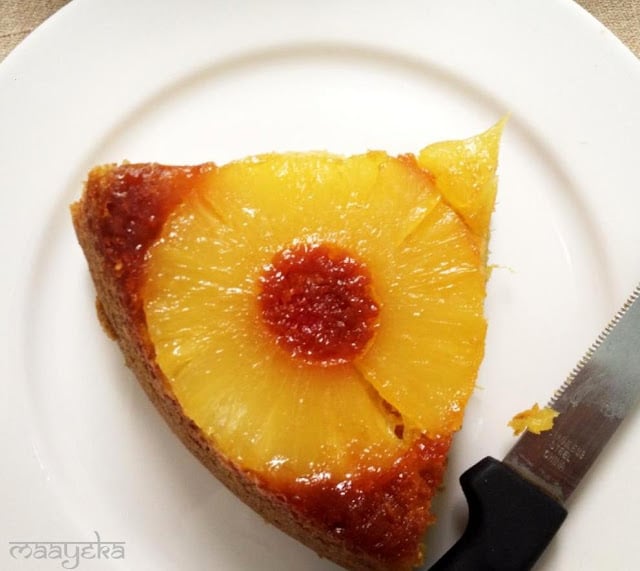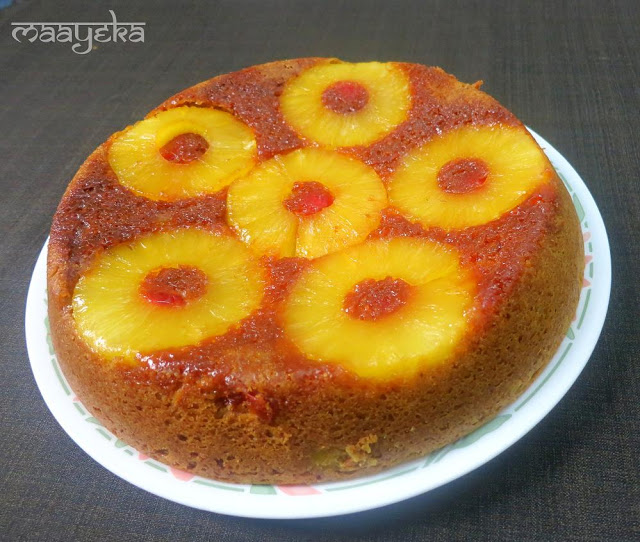 Prep time-10 min
Cooking time-45 min
Difficulty level-medium
Cuisine-International
Type-bake,dessert
INGREDIENTS-

Refined flour(maida)-250 gm
Condensed milk -1 tin (400 ml)
Butter – 125 gm
Sugar – 6 tsp
Pineapple slices – 10
Club soda –    1 bottle
Baking powder -1 tsp
Baking soda – 1 tsp
Salt  -a pinch of.
Yellow food colour – 1/2 tsp
Pineapple essence-  1/2 tsp
Glazed or fresh cherry – 6
PROCEDURE-
Take sugar in a nonstick pan and caramelize it on medium flame (cook, stirring constantly with a wooden spoon,until sugar dissolves and turn into a golden brown syrup like honey).
Immediately remove from heat and pour in the baking dish to coat the base evenly.it may not cover the whole bottom now,but will melt and spread while cooking.
Now arrange pineapple slices over it,and put cherry or walnut pieces in between the pineapple slices.
Mix refined flour,salt, baking powder and baking soda and sieve twice.
Take a mixing bowl and add melted butter(on room temperature),essence, colour and condensed milk and mix well.
Chop 4 pineapple slices into small pieces and mix in the butter and milk mixture (A)
Now add 2 tbls flour mixture in the mixture A,mix well
Now add 2 tbls of soda water and mix it and keep repeating this process(step7 and 8)i.e-add some flour mixture then add some soda water then flour ,then soda water ,dont add all together. keep repeating untill you finished the flour mixture.
Don't mix the full can of soda water.you need approx. half can of drinking soda
The mixture should be of dropping consistency (slightly thicker then the pakora batter)
Bake in a preheated oven at 170 degree C  for 40-45 minutes.Place the cake in the center rack with both rod on.
Check with a tooth pick insert it in the center, if cake is done perfectly then  it comes out clean .
When done,remove from the oven and cool off  for 10 minutes.
Run a sharp knife around the edges and then invert the cake onto your serving plate.
Don't allow the cake to be in the baking tin for more then 5-10 minutes,otherwise the caramel become hard again and the pineapple topping will stick to the pan .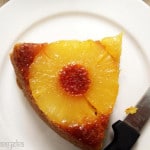 Print Recipe
Pineapple Upside Down Cake -Eggless